The Role Of Promotional Products In The Successful Reopening Of Workplaces- Post COVID
As more businesses re-open their offices as the Covid – 19 curve gets flattened out to a reasonable extent, it is time to weigh the safety concerns at establishments. As people get back to work,  establishing workplace wellness is important for businesses. Make sure to adopt the best ways to keep your office clean and follow the social distancing guidelines to keep your employees safe and your business ready for a successful reopening.
Here are some  handy workplace wellness tips, which can keep your team safe from the possible risks of infection.
Personal hygiene and distancing
Encourage the team to keep their hands and surfaces clean and maintain social distancing. These are the most effective ways to ensure employee safety in the office.  Make sure to keep the common touch points like door knobs and escalator railings disinfected to prevent the spread of germs.
Setting up diverse shifts or flexible work hours is another method that can be adopted to keep the number of employees in attendance to a minimum. If possible, try to increase the distance between work stations, especially if your office has an open floor plan.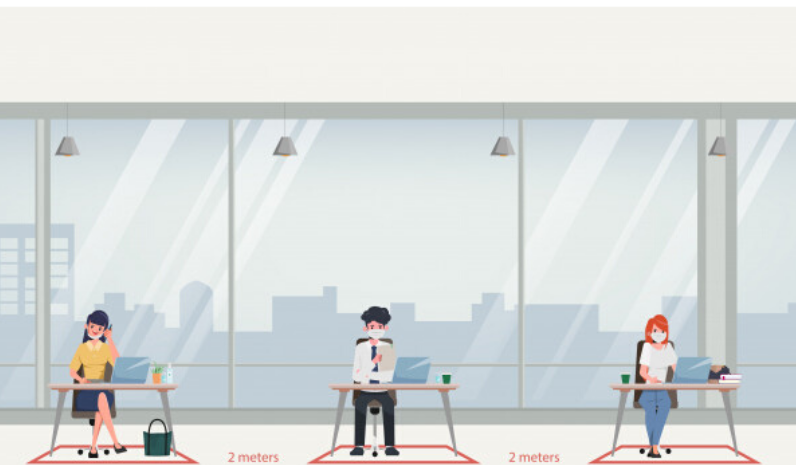 Touch points in the Office
Researchers say that COVID-19 is transmitted largely through hand contact, which is what makes hand washing important. The spread of germs through touching shared items like computer keyboards , refrigerator doors or filing cabinets can be high in office spaces. This is of utmost relevance considering the fact that most American adults spend more time in the workspace in week days than anywhere else, including their homes.
Lobby traffic
Lobby traffic is of great importance depending on the type of workspace your company has and the number of customers and employees that your work place caters to on a daily basis. Floor mats to mark the space for people who drop in can be placed at the entrance to manage traffic and prevent crowd build up at reception desks.
Elevator etiquette:
Encourage your employees to ensure social distancing in elevators and avoid the railings as far as possible to prevent the spread of germs and ensure thorough disinfection of these areas.
Here are some custom products that will help your business stay on top of workplace wellness.
Touch-free contact tools like our Safety Key Touch-Free Multi-tools can help employees to press elevator buttons without hand contact. These tools  will come to their aid while opening doors thereby helping them to avoid contaminated surfaces in public spaces.
Stylus pens too make a great touch-free way to use ATM keypads and store check-out keypads.
 Make sure to handout custom facemasks for your team to ensure a safe environment both at office and on the move. Choose from various models like reusable cotton masks and bandanna masks that match well with their fashion traits as well. These masks which cover the nose and mouth helps prevent the spread of respiratory fluids which could transmit the virus. Personalize with your brand and message to make your team brand pride!
Break room cleanliness
Break rooms and restrooms are the two facilities that your crew will be using the most. Make sure to keep these areas thoroughly disinfected with bleach and keep the objects and surfaces of these spaces germ free. Studies show that 75% of faucet handles on break room sinks contained very high germ count. Regular cleaning of such areas is very important.
Washing hands
Remind your team the importance of washing hands with posters at break rooms and wash rooms. Keep hand sanitizers at their work desks.
Awareness magnets on Coronavirus Prevention and hand washing  can be placed on refrigerator doors and filing cabinets serve as a handy reminder for your employees to stay safe. It will help your employees develop the best-practices every time they grab a snack from the fridge  or get a file from the cabinet!
Work Desks and Shared Equipment
If your employees use shared work desks or accessories, make sure to keep it sanitized at all times.  We offer personal safety kits that contain wet wipes, hand sanitizer and other items that the employees will find useful.
We offer cell phone and device spray cleaner options and custom cleaning gadgets that will keep the phones sterile and germ free. Get your logo and message imprinted on these logo items to make your employees feel team pride and maintain a healthy office.  Browse our exclusive Covid products for more ideas.
 If you have questions or need tips, give us a call and our product team is here for you.