Reopening Offices Post COVID – Safety Tips  & Sanitizing Options
As people around the world are making a serious effort in combating the pandemic, the focus has clearly shifted to prevention. Till a remedial cure is developed, the only way for humans to stay safe from this deadly virus will be to stay aware. Personal hygiene, sanitation and social distancing have been proven to be effective in tackling the Covid-19 threat to a large extent.
For businesses, reopening their organizations and offices will be easier said than done. It may involve a lot of preparation and precautions to ensure a smooth and safe reopening after a fairly long period of lockdown. Right from supplying additional PPE to the team to setting up sanitation centers and redesigning work stations, a lot of tasks have to be completed before you are ready to reopen.
Many states have even issued strict guidelines that businesses need to follow when they reopen offices after the pandemic. Apart from the state regulations, every business organization can employ a set of smart practices in their reopening plan.
Return to Work PPE Kits
Your employees should be provided with sufficient PPE Kits when you reopen businesses. Stock up these safety kits for your entire team and make sure to order in surplus for the new recruits or temporary staff that you may have to hire as days go by. Choose from a range of items like face shield, gloves, personal safety kits etc, which will prevent the risks of droplet contamination and reduce the chances of the disease getting spread from asymptomatic individuals.
Facemasks are the norms in the new world for employees especially when they are working in close quarters.  Reusable cloth masks or disposable 3 ply masks are perfect options to consider. You can even have masks that are customizable with your logo and message. It will make your team stand out in office and make it team pride wherever the crew go after office.
The basic function of these facemasks is to serve as a barrier to prevent droplets, dust etc from entering the nose and mouth. Though these non medical grade masks may not be effective in keeping the virus out, these masks will still ensure basic safety and hygiene.  When the entire office wears masks, it can considerably cut down the risk of transmission.
Hand sanitizers
The more you clean your hands with sanitizer or soap and water more will be your chances of staying germ free. 64 Oz Hand Sanitizer will make a top item to keep your crew safe while you reopen offices. These are not just for hands but can be used to clean desks, computer keyboards and other shared surfaces. You can even fill it in smaller dispensers to distribute among your employees and customers.
Its official!  Hand Sanitizer is crucial for a quick spot clean after risk of exposure.  Make sure to leave hand sanitizers  at the desk of your employees and in shared spaces like lobby and bathrooms among others. Models with carabiners are great options to consider as these are easy to be tagged to backpacks and belts and your employees will never forget to carry it wherever they go!
Personal safety kits will make a thoughtful handout for your employees to stay safe. These all in one kits include facemasks , gloves etc packed in a handy cosmetic bag for your employees on the go!
Wearing gloves is another important personal safety measure. These Nitrile Protective Rubber Gloves make great handouts for your staff to reduce germ transmission while they handle equipment or use shared surfaces.
A Safe Work Environment
As social distancing is in force, it may not be possible for your entire team to be present in the office at the same time. While some employees will continue to work from remote locations, custom telecommute kits will continue to be relevant handouts. These kits have every essential item that your team may need including charging cables, stationery kit, microfiber cleaning case and other items. Your message and logo imprinted on these will get a lot of attention from not just the employees but everyone around while your team thinks about your company even at their home offices. Brand these employee appreciation gifts to make them feel appreciated.
Office supplies
Mandating that everyone strictly uses their own set of office supplies is another way to stay safe. Something like borrowing a pen may seem harmless, but it could transmit and spread the infection. Making sure that any shared contact is cut down is the best way to keep your team safe. Custom pens, notepads and other office stationery may be required in a larger supply stockpile than normal to ensure this, so be sure to prepare accordingly.
HR policy change
To safely reopen offices after COVID, organizations can either adopt a rotation pattern where only ¼ of the total strength of employees work from office while the rest of the  teams can report to office alternatively. For instance Team A reports first three days in a week while Team B works the rest of the days from office. Reducing the number of employees in the office at any given time will limit the risks of contamination and the entire team getting sick.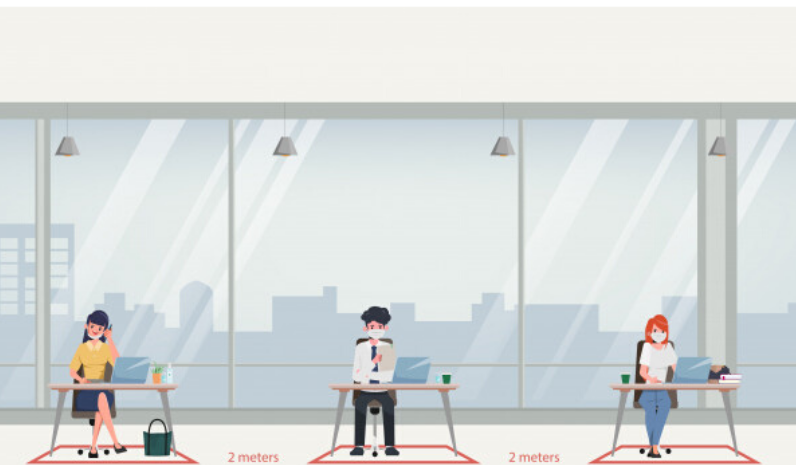 Social Distancing stickers
 Lower the chances of transmission by avoid crowding. Reorganize the seats of your employees with adequate space in between and stick floor decals and stickers to mark the distance in break rooms and common areas.  Reconfigure and change the open office layout and communal workspaces to individual cabins to prevent the risks of exposure.
Hand Sanitizer Stations
Set up sanitizing stations for the customers who may come to your office. Businesses can also adopt temperature checks to try and keep anyone who may be ill from entering the space and set a limit to the number of people that can be present in your office at a given time. You can either require the visitors to have their own PPE or provide some for them before they enter the building.
As things progress, you can assess and alter your reopening plans to match the needs and can relax or restrict things accordingly to ensure safety. We can help you stock up on your PPE kits and  hygiene items to ensure safety.