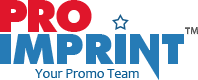 Promotional Items That Give A Fun Twist To Your Marketing
Posted by ProImprint
Posted on August 18, 2017
Promotional items are for marketing purposes alright; but it doesn't mean that these products can't be fun and light hearted. Business promotions with a fun theme are more effective in engaging your brand with your recipients by showing off the lighter side of your brand. So, before you settle for the stereotype custom items, take a look at these fun filled custom items that will tickle the funny bones of your recipients. Triggering fun with promotional gifts is something any brand can do without overshooting their budget as these custom fun items are available in a range of price points.
Attention grabbing gifts
Get your message across from the sky literally with custom frisbees and Mini kites. Put your brand and message on and see how your business logo will grab lot of attention. Custom megaphones or tambourines are budget friendly fun handouts just right for the football season and tail gating party frenzy. A perfect way to shout about your business, these fun items will make great choices to consider.
Beach staples
Summer staples and beach favorites like beach balls, sunglasses and hand fans make low cost fun items that will make your branding campaign light and fun filled. Custom toys will appease the child in everyone and make a great way to get your message across. Solar Powered Dancing Monkey Toys is another smart gift idea. It will make a great addition to the campervan dashboard of your recipients and every time these cheeky monkeys nod, flap or wave, your brand will get a wide angle display.
Stadium
As summer gives way to Fall, which brings along with it tons of soccer fun, it is time to think about custom gifts like seat cushions and sun caps, which will make useful game day accessories for your recipients. Custom blanket is another option for people who enjoy spending time at the park or watching a sports event. The generous imprint area of these logo items will highlight your brand in style and will offer a highly functional handout for customers that they can use regularly at home or on the move.
Outdoor picnic
The first thing that comes to anyone's mind while talking about summer is the bright outdoors and the countless parties and picnics on the cards. Custom playing cards will make a great gift idea to get your brand into the hearts and homes of your recipients in a light hearted manner this season. People can literally spend hours together playing the game of card with friends and family members. Jump ropes and pedometers will make great handouts for people who love to stick to their fitness goals even when they holiday. A packaged BBQ  set will be another perfect gift idea to consider for the food loving cook-out community.
We bet, you will be having countless fun gift ideas buzzing in your head. Browse our custom gifts in all price points at ProImprint and pick up something that will build your brand on a budget and bring a smile on to the face of your recipients