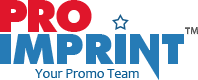 A Few Incredible Tips For Using Custom Edible Items As Giveaways
Posted by ProImprint
Posted on August 17, 2017
Custom food and candy items have always been show stoppers during tradeshows and business events. Be it cookies, chips or chocolates, these sweet delights can easily draw the crowd towards your booth and will make your brand popular. Did you know that the most visited stalls in the show are usually the ones that use food as giveaways? However, on the flip side, food items have a fairly low shelf life and once the customers eat them, their branding potential gets over. To make sure that the custom food items ensure a long term branding, make an impact on the appearance and taste of these logo items.
Here are a few points to remember
Taste: Choose custom food and candy items that will pamper the taste buds of every genre of recipients. Choose food items that everyone will love and make a great conversation starter for the employees to start a conversation with the tradeshow attendees.
Quality: Make sure not to compromise on the quality of food and candy items. Take special care to package these neatly to make it visually appealing. Remember, customers will remember you for the worst chocolate that you might have given as much as a premium quality chocolate gift. The quality of food you handout will make a great reflection of your company.
Packaging: Make sure that the package is as attractive as the delicious contents inside because an attractive package is what grabs the attention of the customers first. Make sure to add your company colors and brand message on these handy packets that should be portable and easy to carry around.
Shelf Life: Choose custom food and candy items that have a decent shelf life and are something that are easy to store. If possible choose items that do not need special storage needs or refrigeration.
Now that you have a clear idea of some of the tips to remember while choosing custom food and candy items for your promotions, you can get you started with some of these best sellers.
Custom candy: Custom candy will go a long way in leaving a sweet touch to your business promotions and conveying your appreciation to customers, patrons and employees. Browse our well stocked candy counters at ProImprint that include individually wrapped candies, lollipops, mints, marsh mellows, jelly beans and a lot more in all possible price points.
Chocolate: Nobody can resist chocolates and candies. Studies have shown than chocolates have stress busting qualities as these will release happy hormones in our bodies. Hand out these custom chocolates at promotional events and tradeshows and make your customers brand loyal in a subtle way.
Mints: These are not just mouth fresheners; everyone will simply love to pop these mint candies into their mouth while in office, home or even on the move. Browse our delectable range of custom mints and choose a model that matches your promotional needs.
The options are endless for custom food and candy; browse along or call us for further shopping tips and assistance.
You may also like…..
Personalized Candelope + popcorn bags = Holiday Food Gifts That will Never Fail