Personalized Toys For Kids as Thanksgiving Party gifts
Thanksgiving is a traditional family holiday that conjures images of pumpkins, turkeys and crops spilling over. Business owners planning community fairs or kids parties on Thanksgiving would find these gift ideas really useful. Ideally the gifts that you choose should be creative, fun and above all kids friendly gifts that are interesting to the whole family. Families can also stock up these interesting gift items as party favors that can be handed out during family dinner and get together.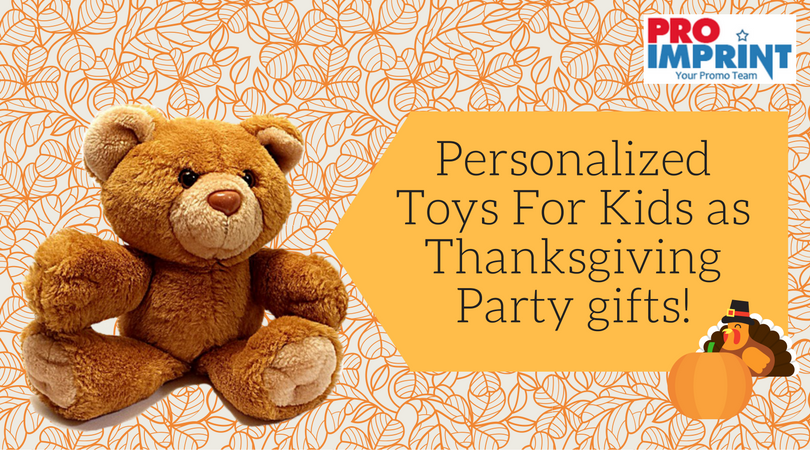 Here are some of the personalized gift ideas that will appease not just the kids but kids at heart as well.
Multicolor Pinwheels: Most of us have grown up with these simple yet attractive toys that swirl and spin in the wind like crazy. It is a fun toy that can be used as part of a room's décor as well. These dazzling pinwheels would spice up any party space and kids will be pleased for sure. Imprint your brand and message on the handle and you are assured of regular brand impressions as these toys make life time favorites of most kids!
Assorted Colorful Rubber Ducks: Be it as items for pool party games, a bath time toy or a gift, kids would love these delightful ducks anytime anywhere. The best part is that these are long lasting and well retained, which means that your message will remain among your family audience for a very long time.
Fun Soaker Water Squirter Kids are all set to have a blast soaking each other with these water squirters. Kids simply love this fun toy all round the year – not just during summer as adults think!
Foam Super Gliders:The Foam Super Glider is a safe and safe glider that can fly high for a reasonable distance. A perfect gift for kids during thanksgiving parties, fairs and events, these toys can be imprinted with your logo and image. See how easily these toys will make your brand popularity hit cloud nine in the day ahead!
Plush Wild Bunch Magnets: Kids would surely love these fun zoo animal themed magnets for their cabinets, study table or fridge in the living room. These cute animal faces will leave the little ones amused whenever they see these. Add to it the big plus that the kids would love to use these for posting their artwork or photos and to show off to their friends.
Traditional Teddy Bears: Nobody can resist these cuddly toys and these plush teddy bears would make a perfect toy for family events like thanksgiving parties. Imprint your logo and message and watch your goodwill hit the sky.
We have added an enticing range of toys of all possible genres. Check it out to grab the best and the most trending. Should you have any queries, we are only a call away.
You may also like……..