What Makes Fanny Packs Fantastic Marketing Tools
Fanny packs are trendy, colorful and above all practical. The minimalist style makes it perfect to match with any outfit of the day.
Budget friendly and portable , fanny packs can play a key role in taking your brand outdoors. Now that the spring season marketing is at its top pitch, marketers may need something engaging like fanny packs for sure. Available in a wide range of models and colors, custom fanny packs offer something special for everyone.
Unisex
Make your men and women customers impressed with this stylish bag. Since it comes in various options, users will find this waist bag fit for their uses. Easy to wear across the waist or shoulders, fanny packs can be worn in any way users like. Moreover, it can also be used as a handbag, a sling bag, and a waist bag.
Functional
Whether your prospects are going to the beach, on road trips or hiking, fanny pack is the way to go. Sleek yet spacious enough to hold valuable items such as mobile phones, wallets, and travel documents, fanny packs offer the ultimate hands-free convenience for the users as well.
Simple
Easy and convenient to use, these belt bags are a smart hybrid that falls between a wallet and a bulky backpack for the travelling community. Ideal for short trips, fanny packs will keep all the essential travel supplies safe and at easy access wherever they go.
How To Use Branded fanny packs for Promotion?
Use it as your promotional merchandise
If you are in the fashion industry, fanny packs will obviously make a smart custom giveaway to introduce your brand to your customers. The high functionality and unique features, would make it a great addition to your signature swag list.
As thank you gifts
Fitness centers and salons can customize fanny packs as thank you gifts to the new members and existing clients. Your brand on it will get a lot of exposure whenever they workout or do other physical activities. Make use of the creative imprint space to highlight your logo and message. Every time your customers are out in the public using this logo bag, they can drive up your brand visibility to a new high.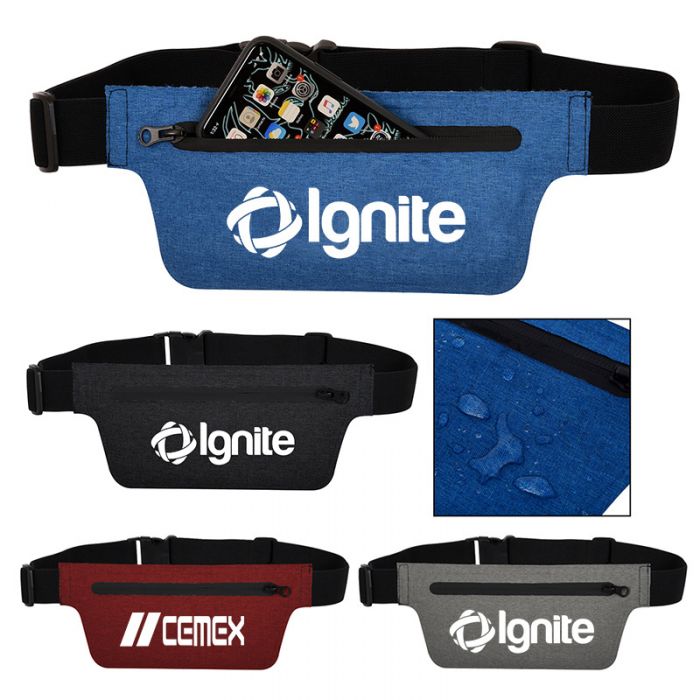 As seasonal giveaways
Fanny packs will surely inspire the audience to explore the great outdoors and the impressive event list that fair weather season offers them. So, retailers can indeed make this trendy bag their giveaway during spring and summer events.  It will obviously make your business a big hit. As people go on holidays and outdoor activities, it will be a great time for you to promote your brand.  Above all, these value added giveaways will  get a lot of appreciation from your business.
Have a better idea to use custom fanny packs as your swag? Share your ideas with us on our facebook page.