Top 7 Eco-Friendly Promotional Products For Earth Day 2023
Earth Day 2023, which falls on April 22nd, is a great time for businesses, non profits and even individuals to renew their oath to adopt a sustainable lifestyle. Afterall, it is never too late to be environmentally friendly! Businesses can adopt sustainable marketing strategies to enhance their goodwill and stay ahead in the competition.
Further, choosing ecofriendly handouts will  not just build brand awareness but highlight your social commitment. In addition, reports show that  consumers tend to promote brands that adopt sustainable promotions than others. 66% of individuals may spend more money for environmentally-friendly products while a staggering  73% of millennials prefer  brands that adopt ecofriendly initiatives. 81% of respondents had the opinion that companies even should take an active role in combating environmental degradation.
Planet- first custom giveaways will make your clients feel appreciated for being part of this social cause apart from spreading awareness on the importance of adopting ecofriendly initiatives.
Eco-Friendly Promotional Products
Businesses can hand out eco-friendly promotional products on Earth Day to highlight their social responsibility. Here are some handouts that can be customized for Earth day.
Insulated water bottles
These stylish and reusable water bottles will also make a great replacement for single use plastic bottles .  Designed to keep both hot and cold  beverages in the  desired temperature, these are likely to be one of the most favored Earth Day gifts   for the consumers.  Your brand imprinted on these bottles will make countless impressions during its shelf life.
Cotton T shirts
Everyone loves a comfortable cotton T shirt as these can be recycled and are easy on the planet. Available in various popular colors and sizes, these apparels make great giveaways for Earth Day. Make the best use of the imprint space on  T shirts to make your logo and earth day message well noticed.
Custom Tote Bags
Tote bags are the last name in ecofriendly giveaways considering its popularity. These stylish and reusable bags will make a smart alternative to single use plastic bags that will end up in landfills and oceans and take centuries to decompose. With more governments planning to ban plastic bags, the relevance of tote bags is more than ever.  The best part is that totes enjoy an incredible fan base among  all types of customers.
These versatile bags can be used as shopping bags, beach bags and travel bags alike. The high utility  of totes make it a favorite choice among everyone.
Reusable tumblers and straws
Earth Day is indeed a perfect time to invest in interesting and innovative giveaways like wheat tumblers  or metal straws that are reusable and environment friendly. Choose from various colors and models to show off your branding  effectively and ensure word of mouth publicity for your brand.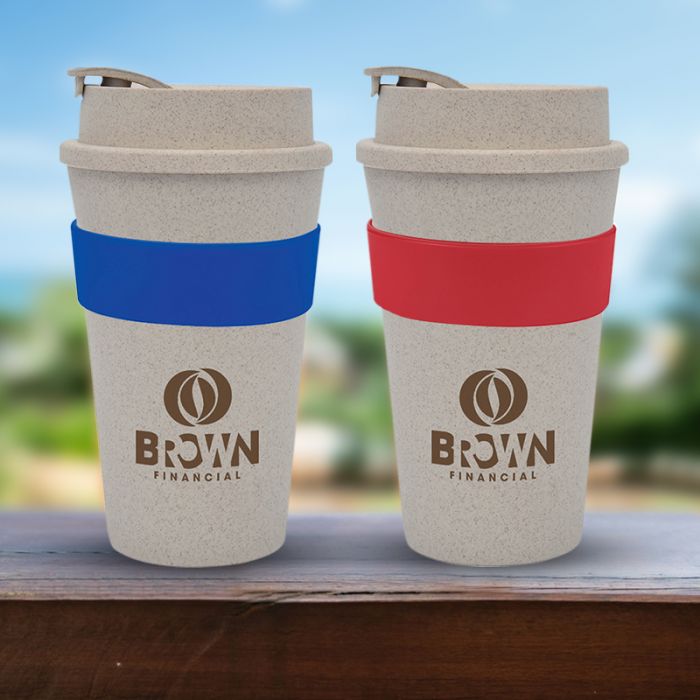 Bamboo Cutting Boards
Kitchen giveaways enjoy a high retention and incredible visibility because in most homes, kitchens happen to the nerve center. So, obviously your logo and message imprinted on custom bamboo cutting boards will never be overlooked. Long lasting and classic, these cutting boards will match every décor theme as well. Moreover, it will also make a practical gift option for Earth Day because everyone needs cookware and hence it will never be discarded.
Recycled notebooks
Custom recycled notebooks are biodegradable and fashionable alike. Choose from various models including those with pens or sticky notes that will further enhance the functionality. Putting your brand on these books is the best way to make your Earth Day message stay on top of the minds of your customers.
Custom Eco-Friendly Pens
Pens are common giveaways alright but it  has not reduced the popularity of writing instruments even a wee bit. They are simple, useful for everyone and above all will make valuable impressions for your brand over their lifetime. You  can even enhance the gift experience by replacing the standard pen with these ecofriendly wooden pens. Choose from a wide range of shapes and models to complement your branding theme.
Pens hold the rare distinction of being a brand building machine that can generate 3,000 impressions during their shelf life. So, marketers will definitely get a decent return on their  investment as well.
Looking for more? Browse our exclusive section of ecofriendly handouts to find something that matches your needs.