Top 10 Promotional Products For 2020- Do Not Miss The Trend!
Launch your 2020 promotions with a bang with these top custom products that are on-trend! Ensure a return on your investment and enjoy long-lasting reminders for your brand. The best products are those someone will use every day and not something that is left behind and forgotten about easily.
We have shared the most expected trending promotional products that every business should have in their marketing mix in 2020.
Trend # 1 – Drinkware
Drinkware items have always been one of the most popular custom gifts. With the increasing emphasis on hydration and the landfill risks posed by plastic bottles, reusable water bottles have become the latest trend to watch in 2020. From metal water bottles to reusable plastic bottles and even eco-friendly wheat tumblers- drinkware items offer a lot of incredible choices just in about every price rate.
Why drinkware?
Everyone needs drinkware items daily to carry their favorite beverages and stay hydrated. So, can there be a better way to get your brand part of their lifestyle than putting it on these custom drinkware products?
People love to show off these good looking products both in social media and their everyday life. The big plus – your brand will get a lot of attention from far and wide.
Reusable drinkware items are ideal if you have a highly precise and targeted campaign and when you need to impress a niche of audience.
Some of the popular brands that can be considered include the classic Himalayan tumblers, Marble Copper Vacuum Insulated Bottles or the crowd-pleasing campfire mugs among many others. Choices are all yours when you make drinkware items your promotional swag. So, if you don't have a tumbler with your logo on it, you are missing out.
Trend # 2 – Eco-friendly items
Products made from reclaimed wheat straws are the latest innovation in custom products in 2020. From straws to lunch boxes, pens and tumblers, a lot of products are made from wheat stalks that are alternatively burnt off by farmers, causing environment pollution. These unique reusable products made from wheat straw are healthy for both the users and the planet alike and enjoy some serious staying power.
You can also choose products made of natural/biodegradable products like bamboo, cork, wood or glass and highlight your green credentials. Be it stone coasters, wooden pens, bamboo cutting boards or cork notepads – you have a truly impressive list on hand!
Trend # 3 – Tote Bags
Totes make reliable and stylish bags for everyday toting needs. Make your pick from an exciting range of colors, prints and material choices like cotton, canvas and jute among others. Reusable tote bags make a healthy alternative to single-use plastic bags. Tug the heart of the onlookers with its casual charm and exciting color profile.
On average, a user will use a promotional bag for about seven months. So, just imagine the exposure your brand imprinted on these bags will get. People will be tempted to ask and talk about these stylish bags for sure. Choose tote bags in popular sizes and trending models to ensure more value for your money.
The versatility and universal appeal enjoyed by tote bags make these the ultimate crowd-pleasers. Totes are used by everyone- from kids to adults, women, and men. These make great tradeshow swag and fundraising items as well. So, get ready to customize these popular bags as your brand vehicles in the year 2020.
Trend # 4 Reusable Straws
Reusable straws are much better for the environment; these come with its own carrying case and little cleaning brushes to keep these accessories squeaky clean after every use. Well, doesn't that sound great?
Reusable straws made of metal, paper or silicon is also popular. Hygienic and portable, these custom products do not add up to the landfills or kill ocean life. Did you know that Plastic straws take up to 200 years to even partially degrade? These will pollute air and water and cause serious health concerns. Many American airports and restaurants have banned disposable straws altogether, which is a giant step towards a sustainable world!
Trend # 5 Technology Products
Stay ahead on tech innovations by exploiting the convenience of wireless technology. Wireless speakers, charging pads, headphones- there is a complete line of custom products that will make the lives of your recipients hassle-free while your brand gets featured on their work desks and personal spaces!
Remember, technology is a great servant, but a bad master: help your customers and clients control the technology to turn it to their benefit rather than harm. The issue of existential threat and cybersecurity issues has been a serious cause of concern for everyone. Be it your bank records, private data or wellness records- everything is at risk from such privacy threats.  So, technology accessories like webcam covers that will ensure cybersecurity will be a good choice.
Trend # 6 Health & Fitness Products
People are more aware of fitness and health like never before. Though health-promoting products have been popular in the past as well, in 2020 we may see a lot of innovations like yoga mats, pedometers, and fitness bands along with some old world items like jump ropes!
You can even consider budget-friendly items stress balls or pillboxes to get across your message to a wider audience.
Trend # 7 Outdoorsy lifestyle products
Encourage your clients and customers to stay active and outdoorsy with some fabulous handouts this year. The steep rise in the number of people going for outdoor adventure and road trips show that an active lifestyle is back in fashion. Some of the promo gifts to consider include folding chairs, blankets, Frisbees, hand fans and a lot more. Your brand will get a wide-angle display outdoors and the much-desired word of mouth publicity.
Make use of the generous imprint space to position your brand and message. You can imprint a tagline, a quote, a mascot or a witty oneliner that will cheer up your prospects and make your message dearer to them
Trend # 8 Pens and Office Desk accessories
Whether it's at home,  office, or on the move- people will always be grateful for having highly useful desk accessories like sticky notes  and padfolios to stay organized.
Though our life has become more digital, we still love to use items like pens from the analogue world to stay sane through the piles of everyday errands and tasks.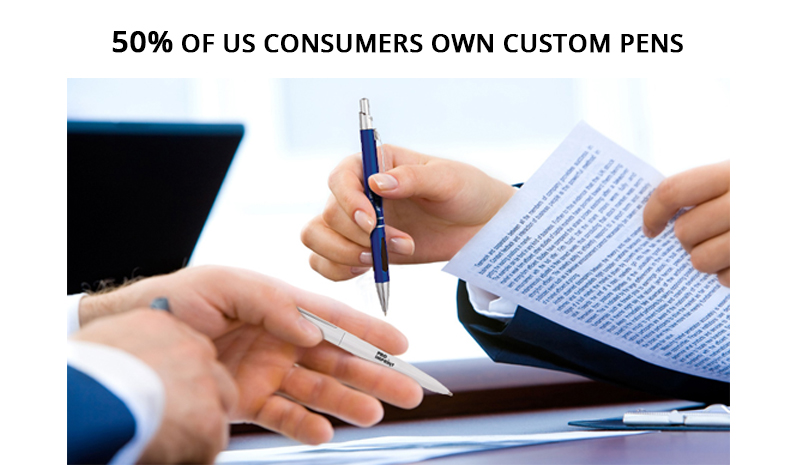 Every desk in the world will have these items; by handing out stuff with your company's information on it is going to keep your brand visible for a long time.
Trend # 9  Umbrella
Umbrellas not just protect you from bad weather but make stylish photo props and accessories as well. Offered in a mindboggling range of patterns and colors,
umbrellas offer something special for everyone. Be it the massive golf umbrellas or the pint-sized mini umbrellas or something in between, you have a lot of choices. The best part- the massive canopy of umbrellas will ensure a 360-degree display for your brand!
Trend # 10  Fun toys and games
Though toys and games might not appear to fit the bills of conventional promotional items for some, 2020 will see an overwhelming use of these custom items. Engage your audience with your brand in a fun way and make your promotions truly engaging with these popular items that will appeal to both kids and kids at heart. Playing cards, fidget spinners, puzzles, bubbles, Yo-Yo- we have a lot of options to choose from to please the child in everyone's minds!
As the market evolves year-by-year, promotional products also change. Whether it's, entertainment, technology or marketing, it is the ever-changing trends that make it more interesting and challenging.
As far as 2020 promotional product trends are concerned, hope the post above has got you covered with some tips and promotional gift ideas.  Did you find it useful? Be the first to share and spread the word