Reasons  To Choose Travel Tumblers As Your Promotional Merchandise
Tumblers are versatile handouts for all types of businesses right from healthcare to finance and food brands among others.
Why custom tumblers make tried and tested giveaways for all types of promotional events? Everyone needs it at home, office and even car. Hence by branding these popular handouts, marketers can ensure a high visibility branding campaign at one time investment.
Choices galore
Tumblers are available in a wide range of models including glass, metal, BPA free plastic and more. It will make it easy to find your perfect match that will complement your message and meet the preferences of your audience.
Budget friendly
Tumblers are available in a wide range of models, which makes it easy for marketers to make it fit their budget. Ordering in bulk will further bring the prices down. This in turn will help marketers to save their resources and utilize it in other marketing needs.
Long lasting
Custom tumblers last long and look great. Hence your brand imprinted on these will get a long term exposure without any repeat investment or effort.
Versatile
Most people starts their day with a cup of coffee and these branded tumblers will thus ensure steady engagement of your brand with the audience. A stylish mug will also make a great talking topic among everyone especially those who are always on the go. Thus your message will reach a wider audience than you might have thought.
Portable
The high portability that tumblers enjoy will make it a walking talking billboard for your brand. Every time, your prospects carry it while commuting, walking or at office , your brand will get easy attention of people around.
Incredible choices
Wide Range of Designs
Mugs come in different designs, colors and models that are suitable for all types of customers. In addition, you can also choose appropriate customization options that complement the material of the tumbler for the desired outcome. For instance, you can get your message laser engraved on metal tumblers whereas screen printing is a convenient option for plastic tumblers.
Sustainable handouts
Tumblers are long lasting and enjoy a high shelf life. So, marketers that wish to adopt a sustainable brand promotion can invest in these handouts of custom tumblers Studies show that customers tend to support those businesses that adopt environment friendly promotional strategies than those that do not employ it. That is another solid reason for marketers to include these handouts in their promotional plan.
Most people have an emotional attachment to their favorite tumblers. So, if you choose a model that your customers will enjoy , it is likely that they will get attached to the mugs strongly while engaging with your audience with your brand as well.
So, how to make your custom tumblers effective promotional items
Choose Unique Mugs
Choose something interesting like insulated mugs that are sleek and stylish enough for them to show off. Your prospects will surely love to get a tumbler that they can carry with them. So, spare a thought at the colors and designs of the tumbler that you choose to make it appealing for the clients.
Choose the most value added Materials
Choose reusable models that will last long and are ideal for both cold and hot liquids. It will ensure regular usage and higher brand visibility.
Tumblers are portable
Most people in today's busy modern world enjoy their coffee on the go. So, it is recommended to choose mugs with lids. It will keep the beverages well sealed while on the go and prevent messy spillage. Choose handy models like those with a handle that are easy to carry anywhere. It will go a long way in promoting your brand to the public.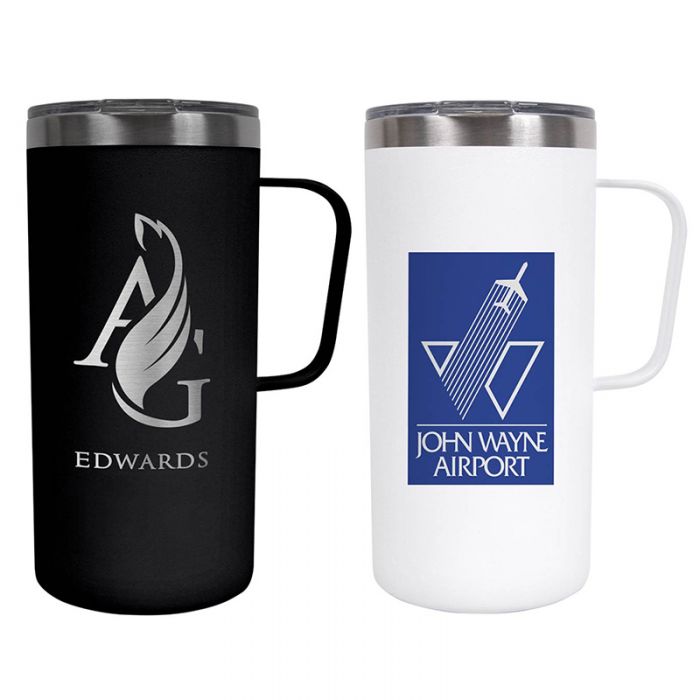 Quality is important
The quality of your custom giveaway will reflect highly on your business identity. So make sure to choose premium quality tumblers that last long and serve their purpose in the long run. It will highlight your brand reputation and create a positive impression in the minds of the audience.
While finding the most appropriate model, always keep in mind the end goal of your business. To increase sales, get more leads, and provide quality products that your products will love.
Interesting customization
Custom tumblers are easy to customize. Businesses can print their logo and message on these everyday items to clock valuable impressions at one time investment. Apart from just the logo or contact information, think of interesting artwork or tagline that will enhance the character of your custom giveaways. It will also engage the audience with your message in a light hearted way.
Easy customization is the key in making your swag memorable. Choose tumblers that are easy to print with your brand name or logo. You may also consider the ones that are available in different colors and sizes to match your promotional theme.
The level of customizability of tumblers is something every creative marketer would surely love. Printing can be done through laser engraving, screen printing and other methods depending on the material.
High visibility
Tumblers will ensure your brand a dominant market presence. Furthermore, incorporating the logo on your products makes them authentic and gives your brand an authority in the business world.
Dynamic
Businesses in all industries can use custom tumblers as promotional items as these are something everyone needs. Popular handouts like tumblers will make an effective way to popularize your brand and get your message in the hands of your target audience. Just think of the impressions, these everyday items will make during its incredibly long shelf life!
Guaranteed Durable
Tumblers are available in various models including plastic, glass and metal. Highly durable models like insulated metal tumblers will get a long innings of utility, which in turn will put your brand on a high visibility. In addition, these materials are known to be sturdy and rustproof and will withstand everyday wear and tear.
Add-on features
Most Tumblers come with additional features like spill proof lid, antiskid base, handle or straws. Spare a thought at the needs of your audience to choose the right models. For instance, if you are trying to reach out to an audience group that is on the go, choose tumblers with lid as it will keep the content safe even during a bumpy ride and they will be spared of the possible mess caused by leaking containers.
Designed by keeping the needs of the users in mind, tumblers will indeed make your brand set apart from the other competitors.
How do you plan to customize these crowd pleasing handouts of custom tumblers? Share your ideas with us on our facebook page.