Promote your Brand and Sun Safety Message with Summer Giveaways
Though UV rays remain in the atmosphere all year round, sun safety issues assume more importance during summer. When the sun is out , it is especially important to adopt sun protection measures. Marketers can thus include sun safety items  to promote their branding, while keeping their recipients safe from sun.
Summer is also popular for a  host of outdoor activities like corporate outing, golf holidays, picnics , cook out parties and hiking trips. Show that you care for your customers by handing out custom products that will make it easy for them to stay safe in the sun. The best part is that your logo imprinted on these outdoor handouts will get a lot of attention from everyone who happens to see it.
Here are some summer promotional products for your seasonal promotions.
Custom sunglasses
 Sunglasses are available in a wide range of models including classic, sporty and everything in between . So, your message and logo will get the undivided attention of your audience while your customers stay comfortable and more protected from ultraviolet light.  Choose from a wide range of models like UV resistant Malibu sunglasses, polarized sunglasses and more.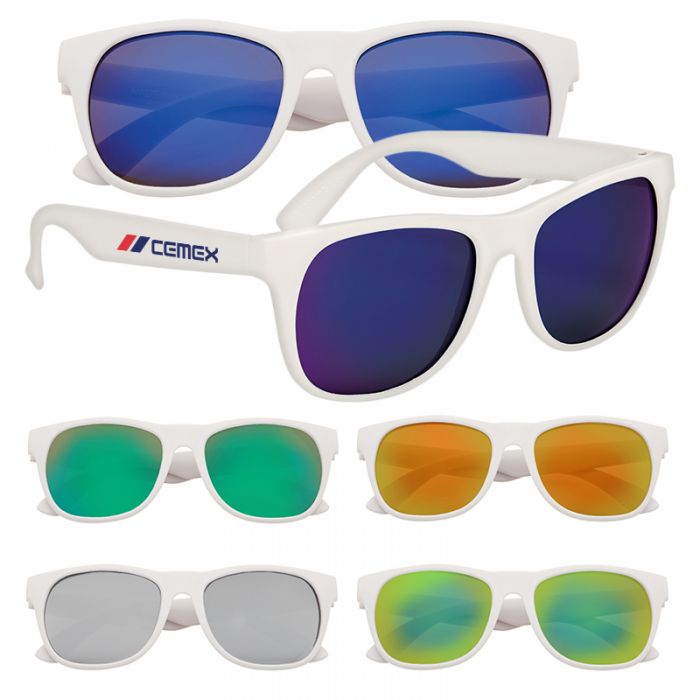 Custom Hats
Be trendy and sun safe alike with these fashionable accessories of printed hats. Get your brand on one of these hats to get your name on the trails, game stands on the beach and infact all around the town. Available in a wide range of fashionable models, custom hats will indeed get your brand on top of the minds of the audience.
Sunscreen
Further, nothing says sun safety like sunscreen. Available in various models, sunscreen will protect the skin from the harmful effects of UV rays. Studies show that consistent  exposure to UV rays may cause skin cancer. Let custom sunscreen be part of their daily skin care routine. Choose combo models that include lipbalm to give dual utility and double sun protection. In addition, your brand will get a lot of attention, as your primary recipients exchange these in their group during outdoor events .
Insulated Water bottles
Likewise, staying hydrated makes a great part of sun safety. Obviously, these trendy drinkware items will keep the beverages chilled for a long time while keeping your brand close at their hand.  Also, choose from a wide range of models to match your promotional theme and specific preferences of your audience.
Hand Fans
Custom hand fans will indeed make a delightful summer gift that your attendees and guests will surely appreciate. You can even choose from a wide range of models including those with flashlights to make it doubly useful. Add your logo and message on these handouts to make great wedding favors and trade show swag. Best of all, these logo items will get continuous exposure even after your event. Moreover these quirky fans will easily make heads turn wherever your recipients go.
Need more? We have an exclusive section of summer promotional products to cater to your needs. Explore at your pace to find the most appropriate handouts.