ProImprint's 15 Top Selling Promotional Products For January 2021
New Year is on. Though the customary festive mood and the party fever may be missing in 2021,  the top sellers of the month clearly proves that nothing can rob the  fun and fervor that New Year is famous for. So, without further delay, let us take a closer look at our  top 15 promotional products for January, which will give a strong clue on what to include in your swag bag! Check it out right away.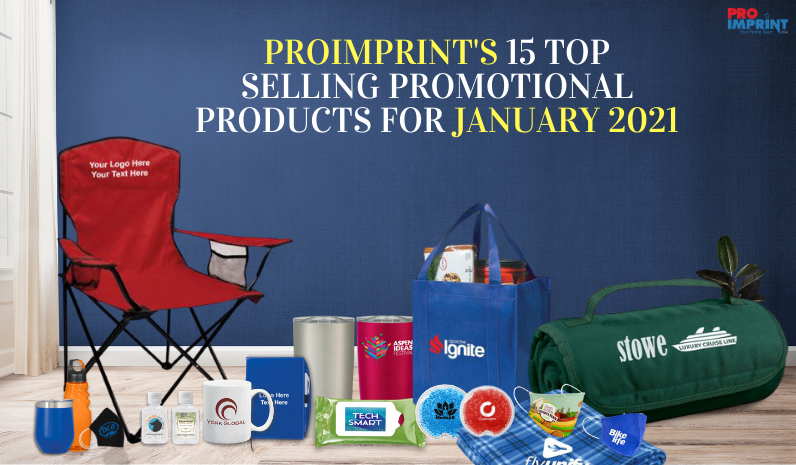 #1 4 Inch Small Round Gel Beads Hot and Cold Packs: Whether work at home or work out at garden these hot and cold packs come handy in soothing cramps and to be at your natural best!
 #2  2 Oz Hand Sanitizers with Carabiner:  Let your prospects stay safe and carry sanitizers wherever they go  with these sleek carabiner packs.
# 3 Form Fitted Cupped Cotton Face Masks with Filter Pocket: the accidental fashion trend of custom face masks cant get any better than these perfectly fitting cotton face masks! Order in surplus.
#4 YaYa Budget Shopper Tote Bags:  These fashionable bags will make a tempting reason for everyone to schedule  their shopping trips more often. Make these crowd pleasers your marketing swag and get noticed!
#5 Reusable 4 Layer Cotton Masks Fashionable, cotton face masks for work, play and everything in between! Your logo imprinted on these will get easy eyeballs for sure!
 #6 6×6 Inch Microfiber Cleaning Cloths Cleaning made easier as never before , these scratch proof cleaning cloths will leave the gadgets squeaky clean and display your brand in style!
#7 Gildan® Adult Heavy Cotton™ T-Shirts :Everyone will not only look fabulous in these trendy T shirts  but also make  your best brand ambassadors. Customize to leave a mark!
 #8 60 Inch Arc Customized Golf Umbrellas: Nothing can snap the fun tide of a golf game when you have these reliable umbrellas;  your logo will get a lot of curious glances on the greens and beyond!
 #9 8 Oz Zippo® Hip Flask: Why settle for something ordinary to carry your sparkling wines when you have these sleek and stainless wine flasks that complement the contemporary lifestyle!
 #10 Folding Chairs with Carrying Bag Put your brand on a portability curve while offering the convenience of a comfortable perch to your audience – wherever they go!
 #11 5″ Water Gun:  Beach fun, pool party or more, nothing says outdoor fun -summer or not- ike these fun filled toys of water guns! Put your brand on and impress kids and kids at heart alike!
 #12 14 Oz  Bio-Green Mini Water Bottles Cycling , hiking water bottles that do not spill or leak! Your imprint on these BPA free water bottles will never be missed.
 #13 6 Ft Reinforced  Patio Umbrellas: Get the party fun outdoors, enhance the settings and stay safe from sun and showers. Your logo imprint will get a perfect display on these massive umbrellas!

#14 White Bandages scrape, cut, sprain, blister, or burn, everyone needs these nondescript first aid items. Show that you care by putting your logo on it!
# 15 High Line Messenger Bags A sling bag over the shoulder does wonders to everyone's style while keeping them well organized.  Order these popular giveaways in surplus.
With this, we wrap up this month's list of top sellers to be back once again in February which holds the credit of events that paint the town red!  Though a long list of Valentine themed- red colored and heart shaped promo items are expected to be on the list, it will be interesting to watch how the trends turn out!