Never Undervalue The Power of Custom Pens
Pens are something  humans have been using for a long time in different forms. Probably we will continue using it for many years to come; till the digitalization comes a full circle all over the world and people no longer see the use of ink on paper!
Pens could be basic and simple. But you have to delve deeper to find the actual promotional power of these custom writing instruments. More than just a writing tool, it becomes part of the holiday memories and journal entries of most people.
However, pens are often taken for granted. Most people wont even think of it till they have to write something. So, by handing out your own branded promotional pens, marketers can keep their brand in plain view of their audience and make the tasks of the recipients easier. Custom pens are available in a wide range of popular models. You can easily choose an appropriate pen that will suit the tastes and needs of the audience.
Branded pens are ideal to remind people of something special like an event or your team. You can get your message right into the hands of your audience, quite literally.
Why do you need promotional pens?
Here are some reasons that make pens great promotional products.
Utility
Firstly, pens are useful. Everyone needs it on their work desks, bags or even in car. It is the high utility of pens that make it a great promotional gift . Surveys show that more than 50% of respondents opined that they value usefulness in a gift. Pens are something that your clients can use all the time and hence are likely to value these giveaways more than fanciful items they'll never use!
Long lasting
Pens have a long shelf life and will last between 6 months to a couple of years, depending on the frequency of use and model.
Easy to customize
Pens have a high visibility, strategic imprint space that will offer a perfect branding space for your message. Whether you place a tagline, a quote or an image, your creative ideas will make these giveaways more meaningful and extra special.
Pens make collectibles
Pens are one of the most popular collectibles around the world. Choose interesting models, customize it to make it unique and see how your logo pens make a great addition to the collection of your prospects.
Choices galore
Pens are available in a wide range of models like eco-friendly pens. In a world where sustainability matters the most, handouts like wooden pens make a great option. From bamboo pens to recycled paper pens and wheat pens, you can choose from a wide range of pens that are recyclable and safe to dispose.
If you are looking for a more luxurious pen for your special clients or blue chip events, settle for these premium quality branded pens offered in gift boxes. These high end pens designed for life will make a great reminder of your brand as they use it with pride. It will even evoke curiosity in the minds of anyone who sees it.
Pens are Universal
Pens are universal and useful anywhere, anytime. Be it to sign the name on a document or send holiday greetings home, it comes handy in countless moments of everyone's lives. Pens are also available in a wide range of models including stylus pens and plastic pens. So, you can choose a model that will fit your promotional theme.
Pens might seem old school, but it's much more than just a tool for writing. They make an awesome way to market your business by being a gift and an advertisement at the same time. A well-designed pen will make a  highly compelling brand endorsement for you, every time someone uses it.
More value for your money
Speaking of ROI, pens are great options since they're highly cost-effective and long lasting. Thus it will make countless brand impressions during its shelf life. Buying in bulk will help you to bring down the costs further, to ensure a highly rewarding long-term return on investment .
Now that you have a fair idea of the benefits of using custom branded pens as promotional products for your business, you can choose a model that will match your branding theme and appease your target audience alike.
Get started with these popular branded pens.
Metal pens
If you have the dough to spare, custom metal pens are a great all-around option in marketing. They usually feature a classic design and popular colors that gives them a great style factor, while still meeting the diverse writing needs of the prospects.
An ergonomic design and superior finish are the winning points of metal pens. It is an ideal gift choice for business events and conventions. The added bonus is that when your clients write with this pen they'll instantly associate it as an extension of your brand.
Plastic pens
Light weight and ridiculously cheap, plastic pens make a fabulous handout for mass events like trade shows and mailer campaigns. Pens once borrowed will never come back. So, your clients and employees will find it an ideal choice when they need to share their pens.Starting at prices of just a few cents, these writing instruments are indeed hard to miss.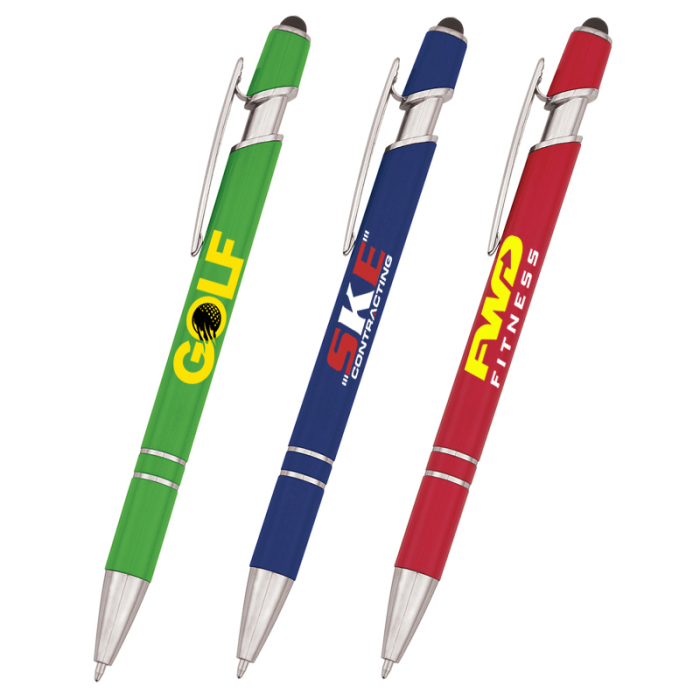 Stylus pens
Highly functional and versatile, Stylus pens are different from other models as it will work both on digital screens and paper pads. Designed for the modern digital world, stylus pens will surely impress your audience.
Paper pens
Ecofriendly and recyclable, paper pens will make a great handout to highlight your green credentials and sustainability. Get creative with your custom design and let your imagination run wild to give these simple pens a fabulous appeal!
To sum up
Pens may be simple handouts but you cannot fathom the power of a pen. It could surely be your next favorite promotional merchandise, which will work for your brand for a long time. Shop right away!