Imprinted Drawstring Bags –Perfect Fit for All Business Promotions
Drawstring bags win hands down as a perfect grab on the go bag that is ideal for the gym, camping holidays, trekking trails, game days and so much more.  Offered in a wide range of colors and models, these budget friendly bags will win everyone's hearts with its simplicity and ease of use. Designed to look good and perform ceaselessly,custom drawstring bags are low on maintenance as well.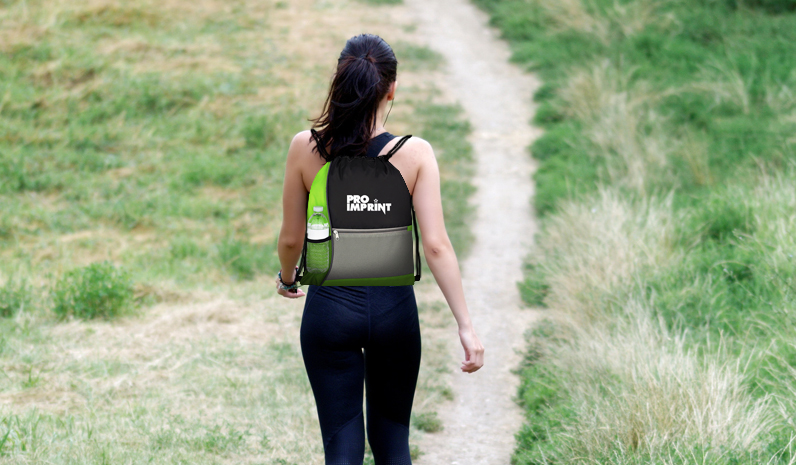 Popular
A drawstring bag is a great product for anyone who loves an active lifestyle. No matter whether you hand these out as sign up gifts for new gym memberships or loyalty gifts to your existing clients appreciation gifts for employees or game day souvenirs to the sports fans, these logo bags will make a statement.
You can even hand these out as freebies for attendees signing up  for your mailing lists or liking your social media pages. While a short, simple interaction gives them a great reward, it boosts your brand value.
Versatile
Versatile, chic and above all on-trend, drawstring bags make a right choice for any brand or event. Popular across all age groups, cinch bags will easily get your message across to a wider audience. Just think of the exposure your brand on it will get on the go as your recipients follow their passionate outdoor activities.
Easy to customize to match your branding and align with your business, these handy bags offer a lot of storage space for the users while you get a decent imprint space. Win-win. Put on your creative caps to come up with an interesting tagline or artwork that will make your gift truly special and engaging. It could be even a way of finding a new customer base!
As fund raising items
Businesses that wish to give back to the community through fund raising programs will find drawstring bags a great choice. It will not just promote your message but help your business become a part of the community. You can effectively use it to raise money as a reward for a donation or for a local sports team. The  goodwill associated with this thoughtful gesture will never be missed!
Budget friendly
Drawstring bags cost only a fraction of conventional advertisements like newspaper or TV ads . Plus these make consistent impressions all through its shelf life while TV or print ads are quickly forgotten about due to its very small shelf life. If you are looking for custom giveaways that will help you stretch your promotional dollars further, custom cinch bags make a perfect choice. The low cost advantage will make these bags  favorite handouts during mass events like trade shows, festivals and fairs.
Have a better idea to use drawstring bags as your custom promotional giveaways? Join an interesting conversation with us by sharing your ideas on our facebook page.