Giveaways That Fire Up The BBQ Season
Summer is heating up and so are the grills! For marketers, barbecue season is the best time to take their brand outdoors and engage the audience with their message.
Enhance the BBQ experience of the recipients while putting your brand on a red hot display with these popular custom giveaways. As people are gathering in back yards and parks for cook out parties, it is the best time for marketers to make their brand part of their fun.
Here are some interesting giveaways that will literally offer some food for thought for your recipients.
Can coolers
Nothing says summer parties like chilled beverages. Custom can coolers will keep the beverages chilled even when are around the grill on a hot summer day. Needless to say, your logo and message will get a lot of attention.
Cooler bags
When you think of summer parties, the golden rule is more the merrier! Cooler bags are available in various capacities and colors. Compact enough to keep it in the boot but large enough for your party group , these cooler bags will come handy during weekend parties and golf holidays among others. Make the best use of the creative imprint space of cooler bags to highlight your brand and message. Choose from various models like these with roller wheels
BBQ Set
Your recipients will have everything that they need for their party in custom BBQ sets . It includes steel tongs, a fork, and a spatula, all stored in a sturdy metal case. Easy to carry around, these handy tools will indeed put your brand on the move while your recipients go about partying.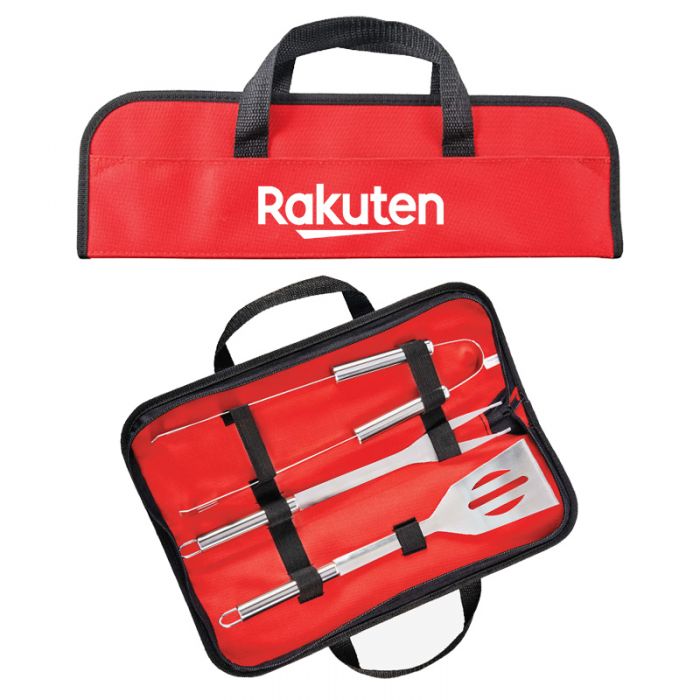 Waterproof Bluetooth® Speaker
Further, music and BBQ parties go hand in hand! So, check out this waterproof Bluetooth speaker that will add boom to your favorite songs and enhance the partying experience. Even if summer showers play spoil sport, the fun tide will never get snapped thanks to the water proof features of these speakers. Inspire your audience to lend an ear to your business message by handing out these speakers.
Spatula with bottle openers
These multifunction custom BBQ items will make it easy for your recipients to enjoy the grilling experience, while they pop the top of beverages easily. Your logo on the imprint space on the wooden handle will indeed get a lot of attention.
Oven mitts
Oven mitts are handy and budget friendly handouts for everyone. It will help them to have a firm grip on the hot dishes while keeping the hands safe. Choose from a wide range of models and price rates. Pair with aprons to make a great combo gift for all cooking aficionados and grilling experts.
Which of these custom BBQ items are you planning to use as your marketing swag this season?