Enhance your Brand Appeal with Custom Wellness Products
Beauty is hard to define, but it is indeed a big business today. The beauty industry in the world is estimated to be a staggering $532 billion business and is growing. Better awareness on beauty care among consumers is one of the primary reasons behind the robust growth of beauty industry. Everyone desires for products that make them feel better and look good.
Wellness items are certain to be kept and used repeatedly on a regular basis, which in turn will ensure consistent impressions for your brand. Thus custom wellness items will surely make both your business and customers look great! Popular across all age groups, these custom giveaways will easily fit into any marketing plan.
Moreover, it will make great gifts with purchase, sales incentive or appreciation giveaways among others. Wellness items will also make excellent promotional merchandise for businesses in the beauty care niche. These will even tick the bills of trade show giveaways that will  draw traffic to your booth.
Health and beauty gifts are also very versatile; and are a great fit for many marketing and branding strategies. Plus, they are available in a variety of price points to fit any budget.
Here are some wellness gifts that will ensure a quick makeover for your brand
Cosmetic bags
Custom cosmetic bags will keep your brand on the move and are one of the most popular gift items. Make use of the large imprint area to highlight your brand and message . It is a perfect giveaway to announce new product launch or store opening.
The best part is that these sleek kits are not just for toiletries, but are useful to hold electronics and media devices. Choose from a wide range of models including canvas, leather and cotton cosmetic bags.These useful bags are popular among both men and women with many styles available to reach your target customer.
Massagers
Massagers will not just improve blood circulation but make the consumers feel good and stress free. Choose from a wide range of models including scalp and body massagers, back scratchers and more . These grooming items will ensure a spa-like experience to your recipients and offer a great way for your business logo to get daily visibility.
These relaxation items are also a great way to show customers you care about their well-being. These everyday items will not just keep your brand in plain sight of the audience but will ensure the much needed word of mouth publicity for your business.'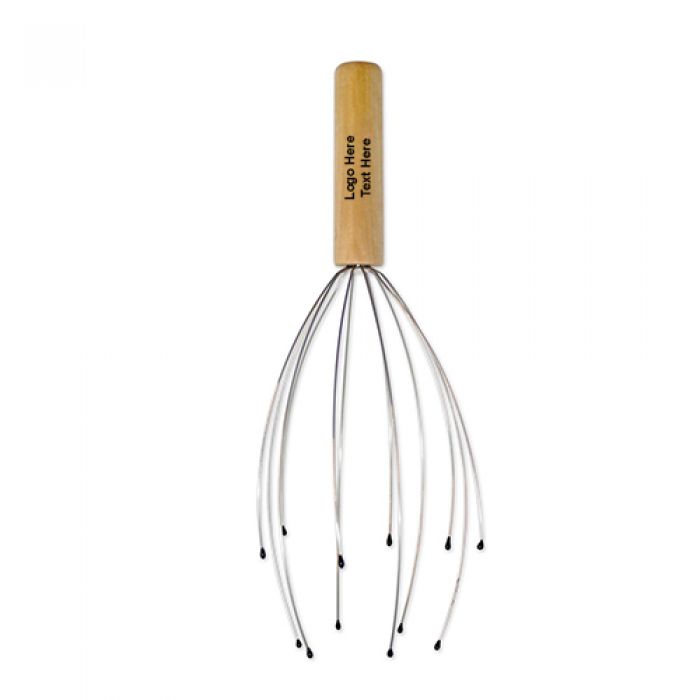 Beauty Accessories
Let's face it. Everyone wants to look good. Custom beauty products and accessories like lip balm, mirrors, nail filers and manicure sets are some of the handouts that your recipients will surely love . These custom giveaways will make your customers fashion forward and confident while your brand gets the raves. Simply align your brand with these trending accessories to  impress your customers.
Custom printed nail files and manicure sets make excellent trade show giveaways due to their low cost and portability. Nobody can ever have too many nail files in their collection! Manicure sets are giveaways with a higher perceived value that will continue to work for your brand nonstop.
Whether you are promoting your brand or introducing a new business, custom wellness items will easily resonate with your customers on every level. It is indeed one of the simplest and most effective methods of marketing that help everyone, no matter what type of business you have.
Need more tips? Follow our daily blog posts for inspiration.