Custom Fanny Packs For Better Brand Recognition
Fanny packs are ideal for all outdoor activities like weekend travel to festivals and camping. It is official! This 90's staple is  back with a bang. Fashionable and functional , fanny packs are riding a wave of growing popularity.  Just the right size to carry every day necessities, fanny packs will also offer the ultimate hands- free convenience for the users. After all, who would like to carry a bigger backpack when they can get all their items at easy access in a running belt ? The  popularity of fanny packs definitely lies in its convenience,
Why fanny packs
Further, the most practical aspect of a belt bag is that they're a hands-free way to carry the basic travel essentials safely out of the house. Just the right size for the customers to carry sunglasses, ID cards, and money, fanny packs will keep all the important items near the customer's body making them feel reassured . It is indeed ideal for travel of any kind and activities like hiking and camping; and are great for music concerts and game day fun; as the users can waltz and make merry without the fear of losing their keys or  cards in the mayhem.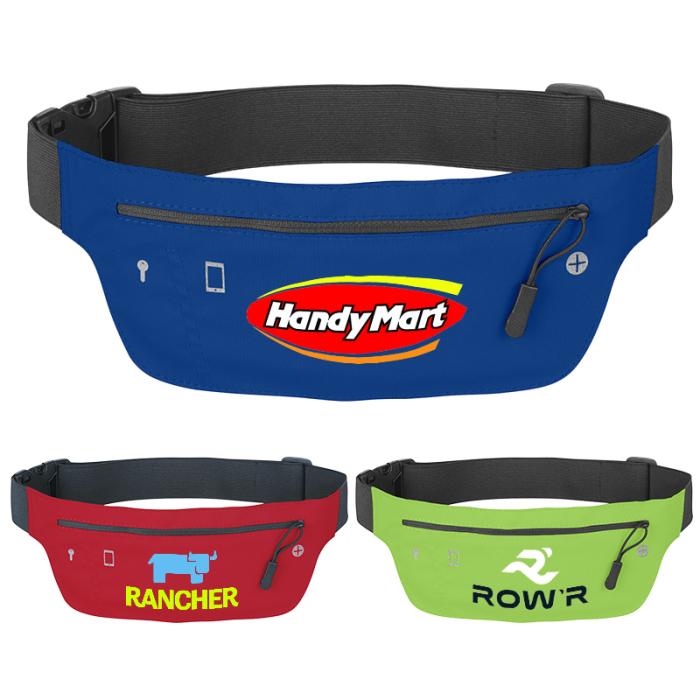 Versatile and trendy, fanny packs will definitely literally take your brand outdoors. In addition, these budget friendly and highly functional everyday items will indeed make your brand part of the outdoor life style of your audience. Going out is a really convenient thing to do for most people especially in summer and spring.So, branded custom fanny packs will go a long way in increasing brand awareness and sales.
Available in a wide range of models including stadium friendly transparent bags, these logo items have a big imprint surface for you to place your logo and message. Customize it in any pattern you like to engage the right target group for your products.
Popular
Fanny packs are popular all-round the year, especially during fair weather season. Hence, marketers can make the best use of it to enhance their brand awareness and  popularity.
Why should you think about custom fanny packs
Brand awareness
Advertise in the community, and get easy attention for your brand with fanny packs.  Moreover, just think of the impressions your brand will get, every time your audience will go to game days or camping. It will definitely make your brand the talk of the town without being intrusive.
Higher Sale
Also, make your brand part of every trip through fanny packs. It will keep the brand awareness up and encourage your customers to prefer your brand. Also, wearables like fanny packs will literally get your message  into a wider audience without any repeat investment or effort.
Wish to make custom fanny packs your swag? Share your thoughts with us on our facebook page to join an interesting conversation.