Custom Clear Stadium Bags for the Sports Season
Sporting events are back in full swing and so are the stadium bag policies. So, it is a great time to invest in custom clear bags for marketers to get their brand on a wide display. These stadium-approved clear bags allow ticket holders to enter any sport arena or concert venue with ease.  Choose from a wide range of popular models in clear bags like totes, backpacks, fanny packs and drawstring bags among others.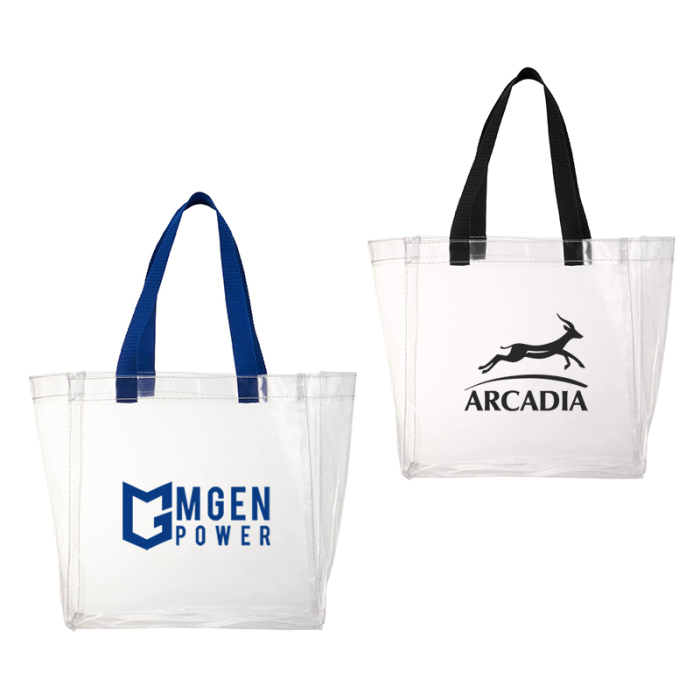 Know everything you need to know about stadium bags in this post.
Stadium tote bags have a clear and transparent design that comply with the NFL's All Clear Bag Policy that came into force in 2015. This policy is applicable to all sports leagues like hockey and golf; college teams and the NCAA along with music concerts and other arena- and stadium-events. Made of clear plastic, vinyl, or PVC, these bags will reveal the contents inside for security check. In other words, you get into the event quickly while everyone inside feel safer.
In addition, marketers can customize these bags with their logo and message printed on one side to get easy attention of people on the stands and even beyond the arena. Stadium bags allow your prospects to carry cash, sunglasses and other personal supplies.
Why custom Stadium Bags?
When you add your logo or mascot to these clear custom bags you will also get an incredible brand exposure among thousands of fans and sports personnel. Your message cant never get overlooked in this highly exciting environment, where everyone will be thrilled to share your message. Hence, it is a great way to convert their sports spirit to your brand promotion!
Versatile
Likewise, custom clear bags are also ideal to promote all types of businesses and events. Here are some smart ideas to incorporate these bags into your promotional plan.
As team spirit swag
Enhance the excitement of team outings by handing out custom stadium bags printed with your logo and event name. It will even enhance their team spirit while your brand gets a great display.
Point of Sale handouts
Stadium bags also make an ideal choice as a gift with purchase or a complimentary giveaway. Every time your recipients use it, your brand gets advertised among thousands of people attending the event.
Sport Season gifts
Wish to kick off the sports season in style? Look no further than these clear stadium bag giveaways to celebrate the start of a season or a new chapter. Besides, you can even include other outdoor items like beach towels, caps and more in the bag to make it value added. No matter how you wish to go about it, custom stadium bags will indeed make a smart investment to get your message across to a large demographics at one time investment.
Planning to make clear stadium bags your promotional swag? Browse our collection to choose a model that you think will fit your needs.