Custom Chocolates- The Best Way To Celebrate Thanksgiving Day
Thanksgiving, celebrated on the fourth Thursday of November is a federal holiday in the United States.  It makes a wonderful time for people to express thanks to everyone in their life and to join their family for a special meal. Thanksgiving Day that originated in 1863 is one the busiest periods for travel in the USA where people celebrate the extended weekend with family trips, dinner parties, parades and festivities.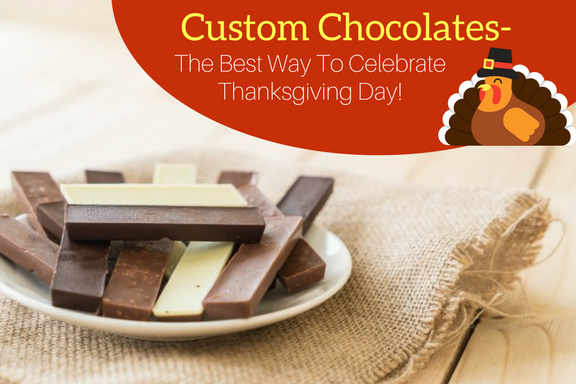 Thanksgiving is more of a family holiday where families indulge in a sumptuous meal, share their thoughts and express thanks for all the blessings in their life. The traditional fare includes turkey, potatoes, pumpkin pie, gravy and vegetables. It will make an equally wonderful time for businesses to plan promotions and to reach out to their audience. Thanks giving promotions need not be elaborate or exorbitant. Think about fun themes, games and thanks giving gifts that will grab the attention of people around and will make your promotions stand out. The harbinger of the big fat holiday season ahead, Thanksgiving makes a perfect time for people to wind down with their friends and family and stay thankful.
As Thanksgiving is sneaking in, you may be wracking your brain for interesting brand promotional gifts and ideas. If you are not making much headway, settle for the popular gift ideas of chocolates to add a sweet note for your branding.
Custom food and candy will make one of the most popular handouts during holidays and festive occasions and Thanksgiving is no different. Check out what we at ProImprint have in custom chocolates for you.
ChocElope Chocolate Bars: Say Thank You and Happy Holidays to your customers, friends, business partners in the sweetest way possible with these 1 oz chocolate bars. Imprint your brand and message on the envelope and use it as gift bag inserts during thanksgiving events and fund raisers. Everyone will love these logo items and the brand on this, which will infuse warmth and friendliness into your business promotions.
Milk Chocolate Bars: Milk chocolates enjoy a cult status among goodies for some really sound reasons. Reach out to the huge fan base of milk chocolate fans by handing out these made in USA chocolates, imprint your holiday wishes and greetings in full color on the wrapper and see how these logo items will turn out to be the best holiday gift ever.
Eros Chocolate Bars with Full Color Wrappers: These will make a great holiday gift and Thanksgiving treat for your patrons and employees to express your gratitude and thanks for their support. These make great hand outs during parades, fund raising events and gala dinner events. Hand it out as gift bag fillers or as individual gifts and see how your recipients will feel special.
Chocolate Coins with Full Color Decal: If you thought Thanksgiving treats include turkeys and pumpkin pies and nothing else, you could be in for a sweet surprise at the incredible popularity enjoyed by these custom chocolate coins. These budget friendly treats will make a smart way to sneak in your brand into the hands of your recipients this season. Try it for sure!
Browse our complete line of custom Thanksgiving chocolates and choose an item that matches your needs and top off your festivities on a sweet note!
You may also like….
Custom Chocolates And Candies- The Perfect Wedding Favors Of Your Dreams