Best Rated Custom Drinkware with Straws of the Season
As seasons change and the weather becomes hot; it's easy to see why custom drinkware evolve as such a popular corporate gift. Show that you care by offering the active employees their favorite beverages on the go; while highlighting the health benefits of staying hydrated. Custom tumblers with straws  will make it easier for your employees to consume more fluids while your corporate brand image will get a fillip .
Moreover, reports how that personalized tumblers with straws will help to drink more fluids; than if they were just sipping, thereby ensuring healthy hydration. Available in a wide range of price rates, these tumblers are even suitable for mass events like corporate holidays, picnics and game days among others.
Limitless choices
Economy Double Wall Tumblers  made using Up To 25% Post-Industrial Polypropylene Material are ecofriendly. It has a double wall construction which ensures insulation of hot and cold liquids. Made in USA, these BPA free custom tumblers with straws also have snap-on, spill-resistant lid with matching 9″ Straw. Available in various solid colors, these trendy drinkware items will also refresh your brand visibility in no time.
16 Oz Double Wall Chroma Tumblers with Straws will obviously reinforce your brand identity everytime your recipients relish their favorite beverages hot or cold as they wish. Double wall construction will also make these tumblers capable of holding both hot and cold liquids. Plastic inner liner and 9 Inch matching straw are the other features of these tumblers. So, customize with your brand and artwork for trade shows, corporate events and more and get spotted big time!
16 Oz Color Changing Tumbler with Straws available in color choices such as Pink, Green, Black and Blue will definitely add a pop of color to even a low key promotional theme. The design on the tumbler changes color with temperature. screw-On, Spill-Resistant Lid and matching 9″ straw are the other features of these  custom tumblers. Further, make the best use of the outstanding imprint options of the tumblers.
Something special for everyone
16 Oz Newport Tumblers with Straw  feature an impressive Matte Black color accentuated with colorful accents  of lid and straw, making them stunning. Double-wall construction, spill-resistant lid and matching straw are other highlights of these custom products.
16 Oz Econo Color Changing Tumblers are made in USA, BPA free, Polypropylene tumblers with double wall construction for insulation of hot or cold liquids. The snap-on, spill-resistant lid with matching 9″ straw makes it easily portable.
16 Oz Monterey Two-Tone Tumblers that are made In USA  have a double wall polypropylene design that will insulate hot and cold beverages efficiently. BPA free and microwave safe, these tumblers also have a sip-through, thumb-slide lid and an impressive imprint space
Urban Peak® 25 Oz Marina Vacuum Tumblers and Straw are available in Blue, Stainless, White and Black colors. Dual wall 18-8 Stainless Steel construction, copper lined sweat-proof design are the main features of these custom tumblers. Clear hard plastic straw, stainless steel lid and stone finish on color body will definitely make these products outstanding.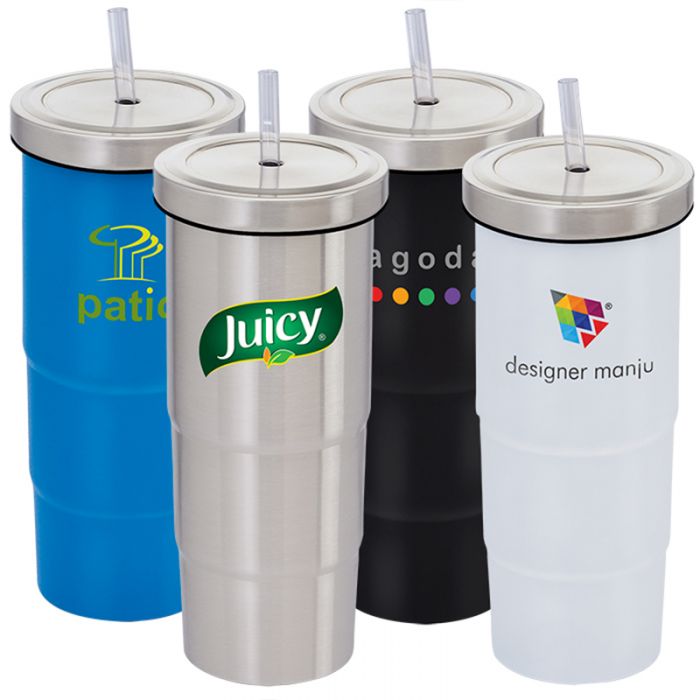 Looking for more? Browse our collection to choose a model that you think will fit the promotional theme.