4 Reasons To Promote With Custom Metal Straw
For many decades,  single-use plastic has been a growing problem worldwide. Millions of plastic straws pollute rivers and chock the planet.  Consider these reusable and ecofriendly metal straws to boost your promotional campaign and highlight the ecofriendly trait of your brand.
Using sustainable custom promotional items for your brand marketing is definitely the best way to go. It will highlight your sustainable brand image while offering something that your audience will find useful for a long time. Besides, these unique straws will even make a great talking topic among everyone who happens to see it.
Why use custom metal straws
Eco – Friendly
Play your part in the global movement against the use of single use plastic by handing out these reusable straws everyone may find useful. A great alternative to plastic straws, this eco-friendly gift is indeed another way to enhance your goodwill.
Brand Loyalty
Reports show that customers prefer brands that adopt sustainable branding and ecofriendly giveaways in their marketing. Thus these logo items will definitely enhance your fanbase and strengthen the relationship between the brand and customers.
Customizable
Come up with creative ideas to make the straws look unique. Add your logo, message or something more on the straw or even the pouch to enhance visibility.
Flexible
Moreover, straws are popular custom giveaways that can be used to promote cafes, food joints and in fact any other business, because metal straws are something everyone needs.
Widen Market Reach
Further, budget friendly and compact, metal straws will make a great handout for mass events like trade shows to make new connections and tap new networks.  Your brand will surely benefit from green marketing. In addition, these giveaways will spread awareness about the possible negative impact of using plastic on a daily basis.
Here are some of the models that you will surely find interesting
Stainless Steel Straws with Cleaning Brush   Features reusable stainless steel straws have a wire cleaning brush and a silicone tip in various accent colors. These custom straws and accessories are great for corporate picnics, parties and events. Your logo and message imprinted on these everyday items will indeed get a lot of attention and appreciation.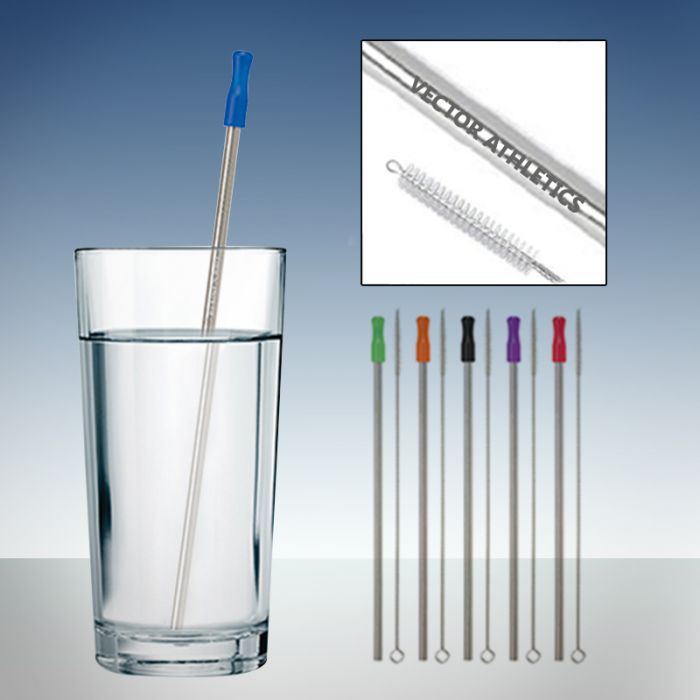 Reusable Stainless Straw 10 in 1 set  includes 8 pcs of stainless steel straws in different sizes, 1 piece straw brush and a cotton pouch. Made of 18/8 food Grade Stainless Steel, these stainless steel straws have different accent colors on silicone tips that will make it easy to differentiate between various users.  So, invest in these reusable and dishwasher safe stainless steel straws that are eco-friendly.
Looking for more? Browse our collection to choose a model to be part of your own environment-friendly movement whilst promoting your brand.