What Makes Custom Hot and Cold Packs Popular Gifts
Summer or winter, hot and cold pack will be a game changer during outdoor activities and events.
Whether you're out cycling, hiking or camping, you're bound to get a few sprains and bruises. Promotional hot and cold packs will show how much you care for the wellness of your recipients. It is an excellent way to get instant relief and reduce soreness and swelling after a minor injury.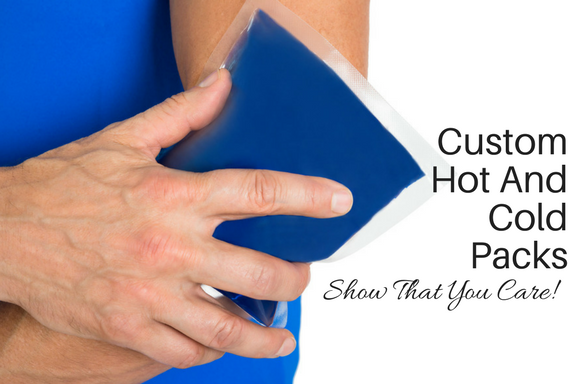 Offered in a wide range of interesting shapes and colors, these high utility custom giveaways will make excellent marketing tools for your company. Just think of the exposure your brand imprinted on these handouts will get at fitness centers, sports events and more.
Versatile
Hot/cold packs can be used as both hot packs and cold compress to alleviate muscle soreness and sprain. It is reusable, nontoxic and easy to use as well. An essential item in the first aid kit of every home and office, hot and cold packs will make consistent impressions for your brand for a long time. These logo items will come to the aid of your recipients during minor injuries and sprains while your brand gets a lot of exposure. Win-win!
Plus, customers will be more likely to trust your brand if they see your logo on a wellness product and will foster positive feelings toward your brand.
Practical
Handouts that are highly useful fare better as marketing tools; reports suggest that practical handouts get a higher retention than novelty gifts. Being useful, hot and cold packs get used more often thereby enhancing your brand exposure.
The best part is that these logo items often get shared in the friends' circles of your primary recipients, to take your message into a wider audience. A well customized hot and cold pack often makes an interesting talking topic among everyone. People will be naturally impressed by these gel packs that are available in a wide range of interesting shapes and colors.
Portable
Compact and light weight, hot and cold packs are easy to carry around. These travel size wellness items will fit any bag, wallet or purse to ensure quick relief at easy access in emergencies like insect bites or muscle sprain among others. Get your message travel wherever your recipients go by getting it imprinted on these essential items that are hard to overlook!
No matter whether you are planning to custom hot and cold packs to promote sports clubs, fitness centers or first aid awareness campaigns, these handouts will fit your promotional plan perfectly. Explore our exclusive section of hot and cold packs to get started right away!