Top Selling Product Of the Week– Custom Wireless Charging Pads
Bid adieu to the knotty world of wired gadgets, go hands- free with wireless tech accessories and gadgets. Wireless charging pads is the latest in the list of this super smart league of tech accessories that is all set to turn the digital world on its head!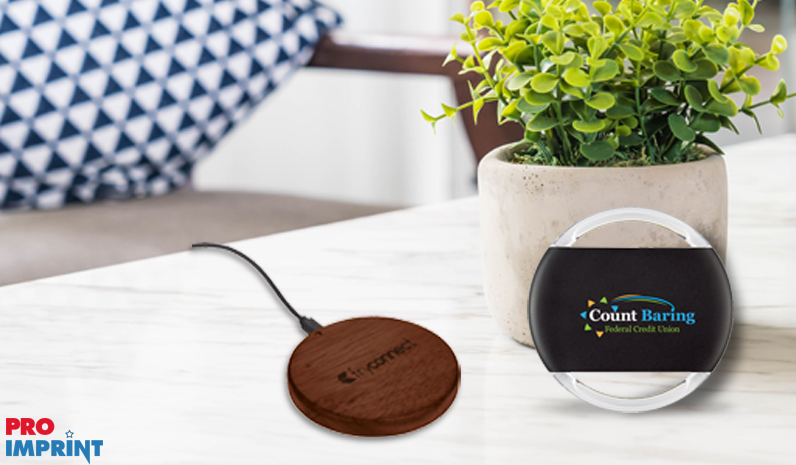 Wireless charging ensures a whole new level of convenience you can ever ask for. Forget about plugging the device and unplugging it once done, or when you need to attend a call, or move away from the charging station! All you need to do is simply rest the QI enabled gadgets on the charging pad to charge it effectively and effortlessly.
This unique technology makes use of an electromagnetic field to charge your device. The charger has to be plugged into an outlet or USB port to create an inductive magnetic field within the charger's coil. The coil within your device's battery connects with the charged coil within the pad to get it charged up.
Anyone with a Qi enabled device including phones, smart phones, tablets etc can use branded wireless chargers. Easy to use at home or on the move, wireless chargers are the latest trend among the tech savvy.
The best part is that the one size fits all charging pads can be used to charge all types of devices; you need not carry multiple chargers for your different gadgets!
Benefits to die for!
Wireless chargers have many advantages.
No more wires
No more tumble and fumble with wires.  Just rest the gadget on top of the charging pad and get it powered up. Easy to remove or put back the gadget without the pain of pulling the wires and fixing it everytime.
More the merrier!
Charge more than one device at a time, save time and effort. Select charging pads with a large surface area that can hold multiple devices such as a phone and a smart watch at the same time. It will simplify the task and time required to charge the devices and save you from the weird world of wires!
On the flip side, charging pads can be used only with Qi enabled gadgets and may work with only the more recent devices. As there has to be direct contact between the device and the charger, pop sockets and wallets need to be removed before charging.
However, the benefits of wireless chargers far outweigh the possible minor flaws.
How good are these as promotional items
Wireless charging pads will always remain in plain view of others. Your message and artwork will enjoy a wide angle display every time your recipients leave them on their desks at work or in prominent places of their homes. It will set off word of mouth publicity for your brand as well.
The sleek design and low profile color choices will make it possible for you match with your office or home décor as well. Most models have LED indicator to prevent overcharging and auto device recognition features that make it easy to charge any Qi-enabled device at any time.
The best part of wireless charger is the large imprint area, which makes it a prime real estate for your message and the recognition that your brand deserves.
Here are some models that you will find interesting
Bora Wooden Wireless Charging Pads : Made of real wood, it will make a classic addition to the tech accessories of your clients and customers. These support wireless charging at up to 0.75A for devices and work with most plastic phone cases on. Get your brand details laser engraved on  2.00″ H diameter to showcase before users.
Radiant Wireless Phone Charging Pads can charge Qi Enabled Devices Wirelessly. When the phone is charging, the clear edge illuminates Blue. Micro USB Input with cord, non-slip bottom, and 5 Volts/1 Amp output are other highlights of these promotional products.
Zenith Dual Wireless Charging Pads can charge two smartphones at a time wirelessly. It can support wireless charging at up to 1A for numerous devices. Your brand will look good on the spray rubber finished charging pad.
Are you planning to use these custom gadgets as your promotional items? Share your thoughts with us on our facebook page. Do follow # Trending Tuesday to stay ahead on the top selling product trends.