Top Gift Ideas for your New Year's Office Party
As 2020 is about to end, many companies are busy planning holiday parties for their employees to celebrate  the  New Year. No matter whether you are planning virtual celebrations or in – house parties, these party tips will come handy.
Christmas parties are not just about food and drinks peppered with light-hearted conversations. It is a perfect occasion to reinforce the team spirit among the employees and make them feel part of your organization.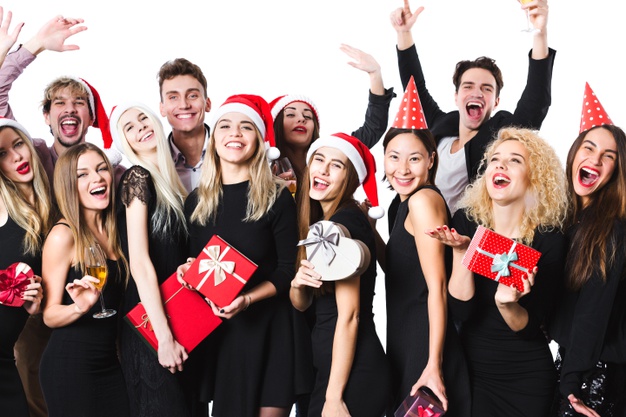 Hosting an unforgettable office party certainly is easier said than done especially in the post pandemic new normal world. Plus, office parties often tend to have mixed reviews from employees. Atleast some employees prefer to spend their free time at home, rather than attending an office party.
So, you have to come up with something irresistible to ensure full attendance for the party. Whether it is the food and drink list, the custom gifts or the fun and games, you have to think out of the box in each of the party planning departments.
These party planning tips and gift ideas will put you in total charge. See how excited your team will be at the end of the day as you bring in a fresh twist to the traditional office holiday party idea.
Stick to the Budget
Working out a budget is the first step on the list because when you have a clear idea on the money on hand, all other aspects of the party planning process will easily fall into place.
Consider employees preferences
The best way to ensure that the office party will leave the team excited is to include them in the decision-making process. An online survey is the best way to get an idea on the favorite activities, food, party themes etc that would be most enjoyed by employees.  It will not just help you to get some sure-fire party planning tips but will make your employees feel valued.
Find a Fun Venue
Deciding the party venue is probably one of the most  difficult parts of party planning.  If possible choose venues with entertainment options and outdoor fun activities. It will enhance the party mood.
Personalized Gifts for Employees
Customized corporate gifts make a great attraction of office parties. Apart from sending them home with a reminder of the event, this gesture will go a long way in making them feel appreciated and motivate to keep up the great work. Finding the perfect personalized gifts doesn't have to be an expensive process.
Here are some gift ideas that will help you get started
Wireless Speaker: It makes a great gift choice for the parties. Small and handy, these blue tooth speakers are great for playing music at home or during office parties.
Customized Sherpa Blanket: Keep employees warm throughout winter with these plush custom embroidered Sherpa blanket.  It is ideal for not just home but for even chilly office days.
Custom Tote Bags: Reusable tote bags are ecofriendly, long lasting and fashion forward. These practical gifts have countless customization options, which will make it easy for you to align it with your brand.
Stainless Steel Tumblers: Sustainable and stylish gifts that enjoy a long retention, custom tumblers will offer the luxury of enjoying beverages hot or cold as they wish. Your employees  can never have too many reusable cups at the office!
The list is virtually endless. Party planners can take this holiday season easy as they will find everything  they need to throw their New Year's office party at ProImprint. Happy shopping!