How Custom Hot And Cold Packs Can Be Used In Business Promotions
Need a novel way to introduce your brand and kick start the conversations other than your business card? Hot and cold packs will be a great handout especially is you are promoting a doctor's office, pharmacy or anything in health and wellness niche. Not convinced yet? Let's dig in to find the promotional potential of these wellness items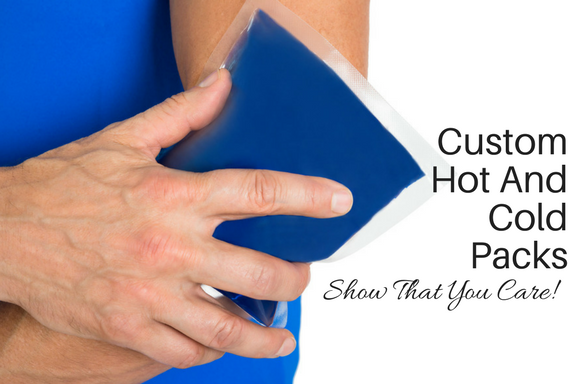 Sending your clients home with a custom hot and cold pack is the best way to show that you care. Plus – it will make a handy way for your recipients to tackle their muscle strains or soreness.  Long lasting and easy to store in a freezer for continued use, these logo items will make excellent brand reminders for your business.
Ideal to be used as a hot pack or a cold pack as the name suggests, these logo items will come handy in countless occasions like tooth ache, ankle sprain, minor swelling and more. Ice packs are an important part of the normal healing process and will keep the users comfortable.
Any businesses can make use of the utility of these promo items. here is a quick list of some niches where these wellness items will prove useful
Physical therapy office
Ice packs are great promotional items to promote the services of Physical therapists. Everytime the patients use these as part of their rehabilitation, they will develop a positive impression about your center and hold on to these high utility items for years to come.
Sports Clubs
Sports teams have to ensure injuries both small and big on the ground and during practice sessions Team managers and coaches can stock up on custom hot and cold packs for emergencies. Get the team logo, mascot or tagline screen imprinted or pad printed to make it a great handout for players. It will help them get over their woes better and celebrate team pride all at once.
Fitness Centers
Customized hot and cold packs make a great investment for fitness centers, Yoga studios and similar businesses. It can be handed out as a small giveaway when someone signs up or as welcome bag items for new members . It will make your clients feel good even after a tiring day at the gym.
Now for some clever customization tips that will make your handouts fare better.
Simple design
Choose a simple yet interesting artwork and couple it with your logo or slogan to make it a perfectly customized item. Single color designs look clean and crisp, but if you have a multi color logo, make sure it stands out from the background color.
Unusual shapes turn heads!
Look beyond the customary square and rectangle shape to choose from a range of quirky shapes that aligns with your business better. For instance you can choose a tooth shaped icepack for dentist office or a heart shaped item for Valentine's day celebrations.

Add a fun twist
Plain and straightforward message won't cut the ice among the users. Think of something fun, play with words, colors or designs, pack  a bit of humor and bring out something that will instantly make them smile. The big plus- they're more likely to hang on to it!
Custom hot and cold packs are useful, well retained and above all will keep your brand front-and-center.  These high utility items will make your clients remember your message for a longer time. Invest in it for consistent brand impressions.