Hockey Tournament Giveaways for Scoring High
Are you a team looking for some fresh giveaways to sell to your fans or give away to your players? From something practical to handouts with a fun twist, you can indeed find something special for everyone. Now that the NHL season is on; marketers can think of planning a hockey themed promotion to reach out to the sports loving audience.
Here are some interesting hockey tournament giveaways. that will make a superb addition to your branding theme
Sports Bottles
Reusable sports bottles are one of the tournament must-haves. Ideal for any hockey player or fan, these sturdy bottles with a sleek and leak proof design; will come to the aid of the players during those long practice sessions or games. So, show that you care by making hydration easier by handing out these logo water bottles. Further, you can also choose from various models including those with a convenient carrying loop, making it easy to take along wherever the game takes them. Moreover, these water bottles are not just for hockey days but can be used during road trips, picnics and more.
Drawstring bag
These versatile bags are fashionable and functional alike for the hockey players to carry their everyday essentials of the go. Choose from various models and color to match your team colors, add your mascot and tagline and you are all set to make people stop on their tracks. So, if you are looking for a budget friendly with an extra wow factor, look no further.
Scarf
Let the ice hockey fans cheer for their favorite team in style while staying stylish and warm with this custom knit scarf. Imprint your mascot and show off the team colors with these versatile accessories. Beanie is another popular handout to rock some serious style on and off the ice during the hockey game.
Metal Tumbler
Let the players relish their favorite beverage on the go or during practice sessions with these insulated tumblers. Imprint your tagline and mascot to make it a keepsake that the players and fans will cherish even after the season. BPA free design and double-wall stainless steel construction will keep beverages fresh and in the desired temperature.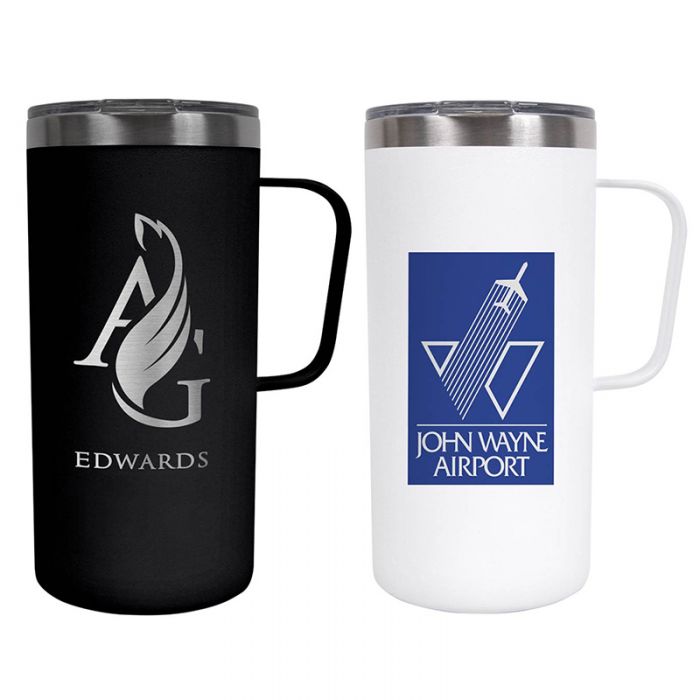 Cooling Towels
Whether your team members are hitting the rink or the gym, cooling towels will indeed help them stay cool. Highly absorbent and quick drying, cooling towels will keep the players cool even in summer thanks to moisture-activated technology that will provide a long lasting cooling effect. Ideal for the outdoorsy and active individuals- and not just sports personnel, cooling towels will obviously make handouts with a high perceived value.
Customized Hockey Puck
Put your brand on custom hockey puck, which is definitely a great addition to any hockey player or fan's collection. Customize the puck with your team's logo, a special message, or your mascot to make it unique.
Trail Mix
Fuel up for your next hockey game with the tasty snack mix that will offer a quick spurt of energy for the players and fans. Needless to say, your brand imprinted on these food and candy gifts will get a lot of attention. This delicious blend of nuts, seeds, and dried fruit is the perfect way to satisfy hunger and stay healthy while on the move. In addition, you an even customize it as birthday party favor item or for a hockey party.
Should you need more ideas, reach out to our team for inspiration.