Exciting Discount Offers For Custom Drinkware Items Just In Time For The Spring Season Outdoor Fun
Spring season is the time for people to hit the outdoors, soak up the party fun and have a big blast with friends and family after the long winter lull. Nothing says outdoor parties and holidays like drinkware items. For businesses that are looking for a useful promotional gift for their recipients will find these drinkware items a great choice. Available in dime a dozen shapes, material choices and sizes, we at ProImprint have something special for everyone.
There can't be a better time than these to order drinkware items as we have the best offers in town to let you shop for everyone in your list. Limited Time offer! Hurry!
Hit the jackpot by placing your orders for these absolute crowd pleasers in drinkware items that will surely leave you spoilt for choices.
28 Oz Aluminum Patagonia Water Bottles: The brilliant metallic shades of red, silver and white of these attractive water bottles is its big plus. In tune with the holiday mood, these water bottles bring together the best of form and functionality and will easily turn heads even in crowded beaches or picnic spots. Put your brand and message on these stylish 28 Oz Aluminum Patagonia Water Bottles that can hold a copious quantity of water or energy drinks for the whole family. Your recipients will love to carry these water bottles for work, on the move and during holidays. These make welcome additions to the drinkware collection and will make great collectibles as well.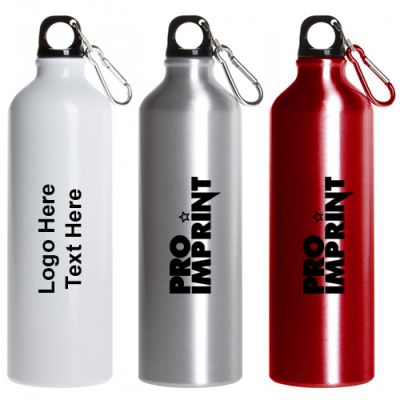 Himalayan Tumblers: Mighty and attention grabbing, these custom printed 10 Oz Himalayan tumblers from ProImprint will be a perfect pick during a weekend party, a road trip or an outdoor picnic alike. The stainless steel inner and outer body, vacuum insulated and double wall construction will keep the beverages in the desired temperature for a very long time.
Stainless steel water bottles: Offered in four attractive metallic colors, these custom thermos mugs make a trendy way to carry beverages. The double wall construction of these 16 Oz Stainless steel water bottles help users to keep hot/cold liquids insulated for many hours.
Beat the heat with these trendy water bottles being offered in hard to beat prices at ProImprint!
You may also like…..