Ensure Valuable Branding With Custom Phone Wallets
Phone wallets offer a handy way for the users to keep important things like licenses, credit cards, loyalty cards etc right at the back of their phones. Plus, it will relieve them of the hassle of carrying their bulky wallet every time they set out of home. Custom phone wallets are a great opportunity for businesses to provide their customers and employees with something they need and use daily. Plus, it offers a high visibility imprint space for their branded message.
Phone wallets have added a fun twist to conventional wallets with expanded functionality. Ideal for all types of businesses and industries, these budget friendly custom giveaways will indeed put your brand on a wide display, to make consistent impressions.
Why custom phone wallets are a great investment
83.72% of the world's population owns a smartphone. So, can there be a better handout than phone wallets to promote your brand? Today it has become one of the most popular promotional products on offer. Light weight and easy to distribute, phone wallets provide incredible brand visibility. Choose from a wide range of models including those with phone stands or pop sockets among others. The incredible color choices of custom phone wallets are another big plus of these giveaways.
Portability
Whether your clients choose to use it while walking their dogs or during marathons , phone wallets keep their important items like identification cards safely while on the move. Moreover, travel is back; and people are hitting the road and the skies as they used to do before the pandemic. Thus phone wallets will make a great handout to reach out to the travelling community. Choose models with RFID protection will keep the data of credit cards safe.
Budget friendly
Phone wallets are available in a wide range of price rates.So, it will make a great choice for every genre of marketers right from budget-conscious businesses and small businesses. The low cost advantage will also make it a great choice for mailer campaigns and mass events like trade shows.
Versatility
Phone wallets can be used to promote all types of businesses including gyms, fashion brands, golf clubs and more. The best part is that these custom giveaways are popular among men and women of all age groups. So, you can use it to engage any audience group.
Handy
Your recipients can't lose phone wallets as long as they dont lose their phones! Show that you care by offering the convenience of phone wallets that are easier to keep it close at hand. Apart from ensuring a makeover for the phones; these logo wallets will make lives easier for the audience. The best part is that every time they carry their phones or take out something from the wallets, your logo will  remain in front of the audience.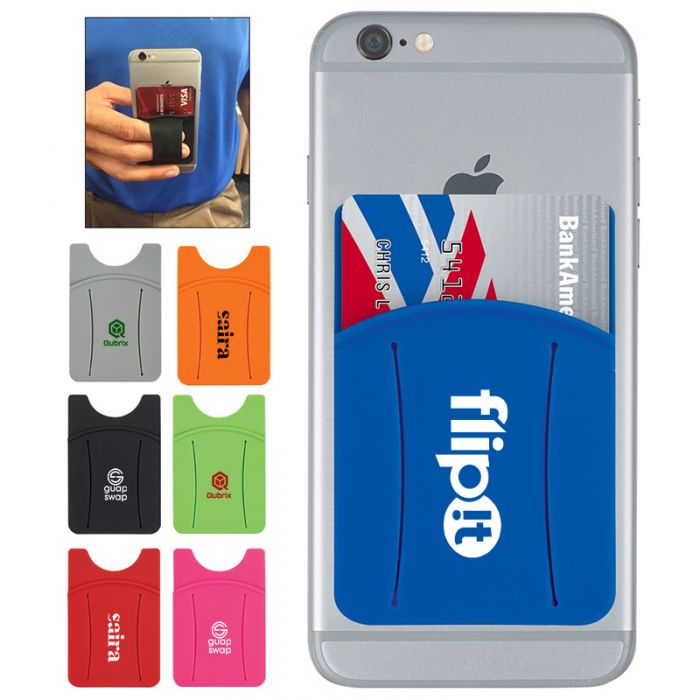 Whether your customers are traveling abroad or in their city, custom phone wallets will make  great display boards for your brand. Most importantly these wallets will help the users to  cut out the bulk and carry what they need without weighing them down. Choose from a multitude of colors and models to suit your theme and ensure the best branding experience for both your existing clients and new prospects.
Browse our collection to choose models that will fit your branding theme.