Add Charm to Your Promotions with Wooden Ornaments
Make your brand promotions unique and interesting by including seasonal trends and holiday themes into promotions. Promotional giveaways like wooden ornaments are something that you need to make your brand stand out from the rest.
Classic and timeless, wooden ornaments will stand out from the sea of ordinary tree décor items. These decorations will allow you to get your name out in various settings like offices , homes and schools especially during holiday promotions.
Wooden ornaments are a traditional holiday symbol
Decking up Christmas trees with ornaments has been a holiday tradition for everyone. It is indeed difficult to imagine what Christmas would be like without them. As they fit into any Christmas tree décor theme, it can be used in countless ways during Christmas promotions.
Apart from being a tree décor item, wooden ornaments make exceptional promotional giveaways for businesses to impress their clients and customers. Add your logo and message to turn these into excellent giveaways at trade shows and other events.
Here are some of the top benefits of wooden ornaments that you might not have thought about:!

Timeless
Wood has a timeless and natural look that works well in any setting and in any occasion. Thus , wooden ornaments will make a great addition to holiday gift bag and promotions. Apart from presenting your brand in a more sophisticated manner, wooden ornaments will add an elegant touch to your branding as well.
Eco-friendly
Wood is eco-friendly as it is renewable In addition, it is biodegradable and hence are easy to dispose off without adding up to the landfills. Most importantly as wood is a natural material, consumers will surely feel great about purchasing these products. Studies show that most consumers support brands that adopt ecofriendly practices.
Available in a wide range of shapes
Wooden ornaments are available in various sizes and shapes like the popular motifs like snowflakes, star, bell and snowman among others.
Easy to customize
Wooden ornaments can showcase your brand and holiday greetings in style as these are easy to customize. Come up with interesting designs, taglines and more to engage the audience in true festive spirit. Wooden tree ornaments will impart a luxurious look to your brand and class to your branding efforts.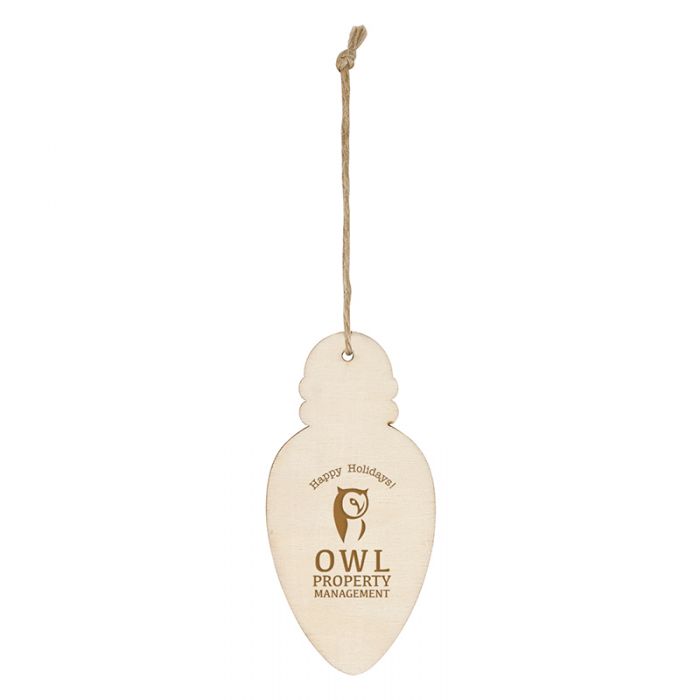 To Tell your brand's story
Businesses can customize wood ornaments as a tangible reminder of their brand identity and as part of a story telling promotional strategy. It will surely go a long way in making your branding unique. Besides, it is a subtle way to portray the green credentials of your business organization as well. No matter how you go about it, branded wooden ornaments will draw easy attention of your customers for sure.
As custom gifts to clients and employees
Custom wooden ornaments make thoughtful gifts to your clients and employees that help spread the word about your brand. Your recipients will indeed be delighted to hang them up and display them with pride. Needless to say, these make great conversation topics as well among anyone who sees it.
As trade show swag
Though tree décor items may not ring a bell as business gifts, it will complement the holiday season and will draw the attention of attendees at trade shows and leave the first best impression. Ornaments are something people actually use, so they're more likely to remember you even after the event for a long time to come.
As product package inclusions
Include these ornaments in product packages that you send out during the holiday season. It is indeed a smart way to evoke a feeling of a gift than a purchase, which your recipients will surely hang it on their tree the moment they get it.
Offer them as a brand souvenir
In addition, you can even sell custom wooden ornaments in your gift shop especially if you are operating in travel and tourism niche. They will definitely make a great memento that other gift stores may not have.
Let's be frank about it! Custom wooden ornaments are surely a fabulous way to market your brand and add a classy touch to even a low key marketing campaign.
Browse our exclusive section to choose a model that your audience will surely love.